Man treads on swan eggs, beats black swans
2017-03-06 03:57:41 GMT
2017-03-06 11:57:41(Beijing Time)
Sina English
A man with a mask and a cap was seen breaking into the fence of a scenic zone in Yangzhou city, Jiangsu province, and treaded on eggs and kicked the black swans who tried to protect their babies.
The incident happened at March 4 in a scenic zone near the Slender West Lake of Yangzhou city. Ms. Jiang, one of the witnesses said she entered the park with her child around 12:30 on Saturday from the West Gate. She saw many black swans on the lake nearby.
"We walked on and saw a black swan sitting on a few eggs in a fenced place near the bridge."
Suddenly she saw a man about 20 years old with a cap and a mask override the fence and go directly to the swan.
"He took away about four to five eggs. When the swans pecked him, he kicked them away. Many visitors also told him to leave the eggs in the park, some even said they had called the police, but he went on as if heard nothing."
"A woman in her fifties or sixties beat on the man to let him return the eggs, but he just smashed the eggs on the ground and treaded on them."
"Later he was dragged away by a middle-aged man," said Ms. Jiang, but she saw a patch of skin on a swan's wing was gone and it was bleeding.
Staff members at the park said local police had already carried out an investigation. The swans are now in a good condition. They had enforced security in the area.
A man wearing a pink cap and a mask broke into the fence and harmed the swans and their eggs.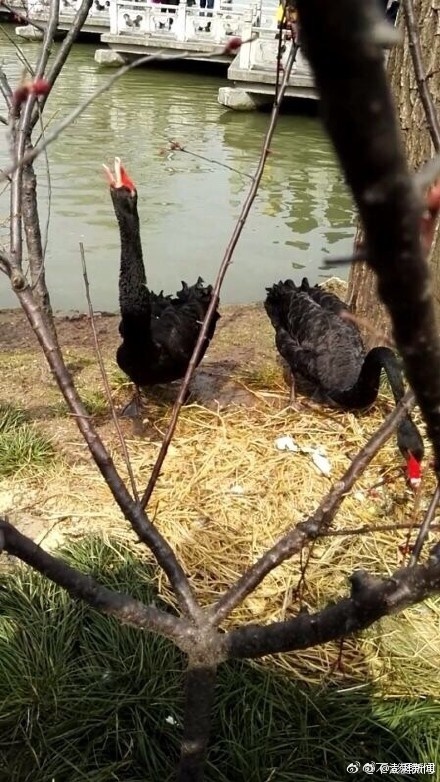 Swans surrounded their broken eggs.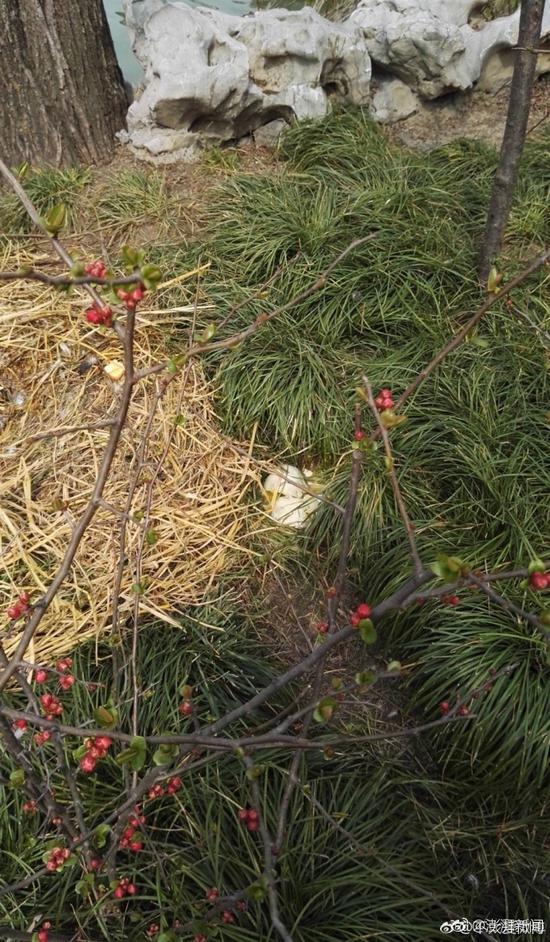 An egg was left broken on the grass.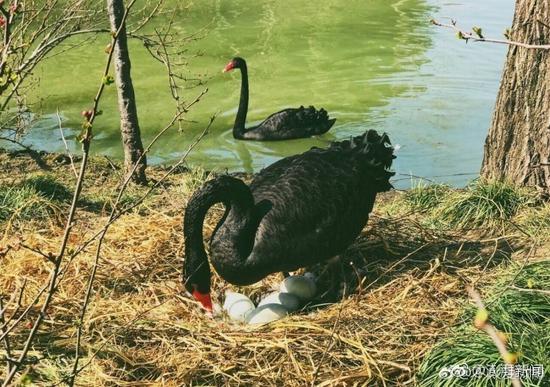 Swans in the park hatched their eggs.
The man's behavior had sparked universal rage on social media. A lot of net users suspected that the man had mental problems, and many others suspected that the man is doing some live-broadcast show. But most users condemned the abuse.