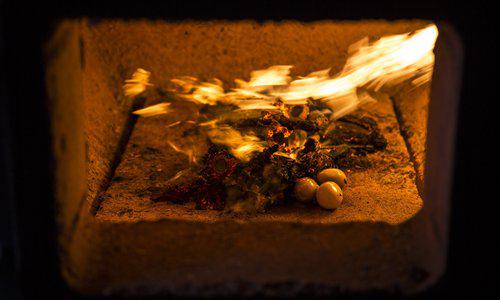 A burning furnace in a pet crematorium. Photo: CFP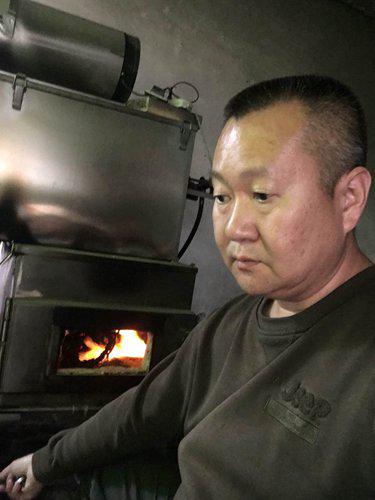 Feng Gong in front of his furnace. Photo: Courtesy of Feng Gong
Around 220,000 pet dogs and cats die each year in Beijing, and a 10th of their owners will choose to cremate their beloved companions.
Among these cremated animals, 10 percent will be laid to rest by Feng Gong, who runs a pet crematorium in suburban Beijing.
In the past 12 years, thousands of grieving pet owners have visited his small rural courtyard situated outside Beijing's sixth ring road, carrying the corpses of their pets. Many were in no mood to ask for Feng's name. But after the cremation, most would remember the compassionate, loving 49-year-old and help him spread the word.
Heartfelt care

Feng opened the door to the furnace, and put the bigger cat into the chamber. He then placed the smaller one into the arms of the bigger cat. He closed the furnace door, turned on the fire, and soon the chamber was filled with orange- colored frame.
The corpses of Yaoyao and Xiaomian, both died of diseases, are now being incinerated. The heat soon burned and charred their hair and then muscles, vaporized the tissues until little white bones were revealed, and calcified and crumbled into white ashes.
The cats belonged to a regular client, an animal activist from Hebei Province who rescued them from the street before they eventually succumbed to their sickness. Carrying their corpses, she drove all the way from Hebei to Feng's place. "There are crematoriums in Daxing and Tongzhou, which are nearer to me, but I only trust you to lay them to rest because you do it with your heart," she told Feng.
Feng sat on a wooden stool next to the furnace and watched the re, crushing the partially cremated remains with a rod from time to time. "It's done!" Feng said suddenly. He turns off the fire and sweeps the fragments into a tray made from stainless steel to cool down. After that, he put the fragments through a sifter and then removes the dirt, before transferring the ashes into an urn. He puts a label with the name of Yaoyao and Xiaomian on the bottom of the urn, and hands it to their owner. "Here it is," he told her.
In another furnace, another cat was being cremated. His owner isn't present, but asks Feng to record the cremation by taking pictures. Every few minutes, Feng snaps a picture of the cat's remains in the furnace. He'll send them to the owner by e-mail - a way for the owner to remember his cat.
Feng was born in 1968 to a military engineer and a middle school physics teacher. Since kindergarten, he would bring home all sorts of animals - from stray cats and dogs to chickens, birds and rabbits sold by street vendors - despite opposition from his parents.
When asked why he opened the crematorium, he said, "Maybe I owed them in my past life. In this life, I have to pay them back."
Feng used to be a driver. In 2003, after the first pet cremation center opened in Beijing, he spent 500 yuan to cremate his dog there. This inspired him to open his own pet crematorium, he told the Global Times.
Using a lamb's leg as a guinea pig, he started to design his own cremation furnace. Over the years, his furnace had evolved from just a frame gun and a basin to a furnace with multiple valves and optimal ventilation, whose highest temperature could hit 1,000 degrees Celsius. He cremates up to 1,000 pets each year.
No rituals

Chinese people are spending more on their pets. The pet burial industry, in particular, has been growing rapidly in China in the past decade as grieving animal lovers became more willing to go to greater lengths in putting their beloved pets to rest. In Beijing, cost of a plot at a pet cemetery ranges from 2,000 to 5,000 yuan, and a tombstone can cost up to 20,000 yuan.
But Feng's business has nothing to do with this commercial boom. Although he's been in the pet industry for a decade, he's against what he thinks is excessive extravagance and has nothing to do with one's love for pets. "Also, there are too many con men in this industry. Many pet cemeteries are just for show. [Owners of the cemeteries] rent a piece of land for one or two decades, but after the lease expires, who will take care of your pets?"
Feng only charges 400 to 800 yuan for each cremation, depending on the size of the animal, lower than the industry average. He also refuses to provide other services such as funerals.
His crematorium doesn't even have a plaque or a sign on the door. Often, when people call him asking if he could provide cemetery plots or organize a funeral, he would turn them down bluntly. "Find someone else. I only do cremation."
Many of his clients are true animal lovers such as animal rescuers, and Feng offers a discount for them. He himself also cares for five stray dogs, and cremates animals he runs into that have died on the street.
"Animals are like children. Some have bad luck and don't have owners that treat them with love. Then I will have to accompany them on their final journey," he said, pointing to over a dozen gunnysacks at the corner of his courtyard. These are the bone fragments of the thousands of stray animals that he had cremated in the past 12 years. "I'm going to bury them after I retire," he said.