College students arrive in Beijing by roller skating in 6 days
2017-10-11 02:07:16 GMT
2017-10-11 10:07:16(Beijing Time)
Agencies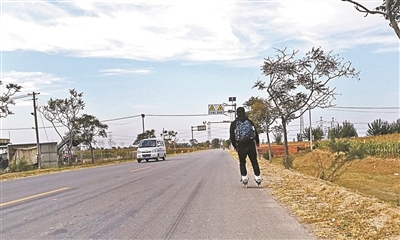 An epic journey by a pair of college students over the National Day holiday is drawing a lot of attention online, reports Beijing Youth Daily.
The two junior students from a college in Jining, Shandong Province in east China, managed to make it from their college to Beijing on rollerblades in under six days.
Setting out with only a small amount of luggage and spare parts for their rollerblades, the two young men covered a distance of 567 kilometers using cycling routes and directions on their mobile phones.
The pair have received a lot of praise online for their determination.
However, some have also been critical, saying their adventure might have led to traffic accidents during the traffic-heavy holiday.
Traffic police have noted to the Beijing Youth Daily that rollerblading on public roads is illegal, and also dangerous.
Rollerblading is said to be an increasingly popular activity among college students in China, with many choosing to practice on the streets in the evening hours to avoid vehicle traffic.