Beijing police investigate smoking incident in the Palace Museum
2019-07-21 02:53:42 GMT
2019-07-21 10:53:42(Beijing Time)
Sina English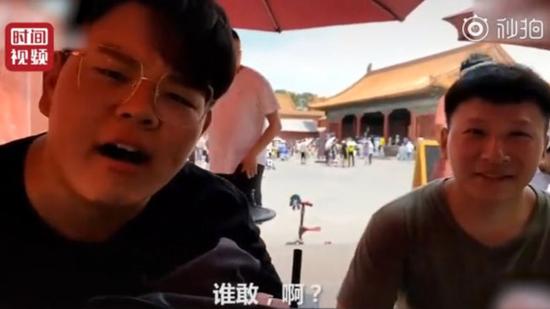 Two male tourists sit in a public rest area and smoke inside the Palace Museum in Beijing on Sunday, July 7, 2019. [Photo: Screenshot]
Police in Beijing have launched an investigation after two men were spotted smoking in the Palace Museum, also known as the Forbidden City, one of China's most famous cultural heritage sites.
Smoking is strictly forbidden in the former palace complex due to the risk of fire destroying its mostly wooden buildings.
A video posted online shows the two visitors smoking as they sat in a public rest area near the Bingjiao section of the museum on July 7. They were seen grinning, and one said, "Who dares to smoke in the Palace Museum? Who dares?"
The Palace Museum security office responded on Friday that they are aware of the incident and are looking into how they should respond.
The Palace Museum was the former imperial palace of the Ming and Qing dynasties. It is the largest and best-preserved collection of ancient buildings in China.
Source: China Plus