At least 4 Chinese tourists dead in tour bus crash in U.S. Utah
2019-09-21 02:39:18 GMT
2019-09-21 10:39:18(Beijing Time)
Xinhua English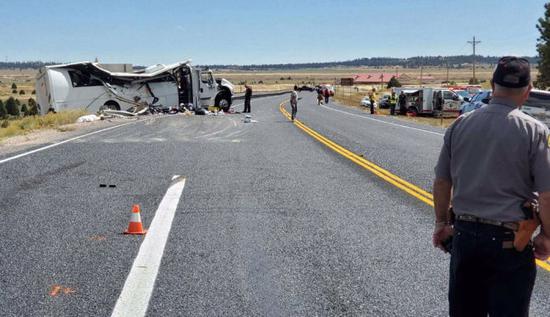 This image released on the Utah Highway Patrol tweeter feed shows a bus transporting Chinese tourists after it crashed on September 20, 2019, near Bryce Canyon National Park. [Photo: @UTHighwayPatrol / AFP]
The Chinese embassy in the United States has confirmed the bus that crashed near the Bryce Canyon National Park in the U.S. state of Utah on Friday noon was carrying a Chinese tour group.
The crash caused multiple deaths and injuries, the Chinese embassy said in a statement.
The embassy has been in touch with local police for further details regarding the accident and has dispatched an emergency team to provide assistance to the victims, according to the statement.
The Utah Highway Patrol (UHP) reported earlier in the day that at least four Chinese-speaking tourists were killed in the deadly tour bus crash.
A total of 30 persons were on the bus, UHP tweeted. "Four have been killed, 12-15 with critical injuries and 10 more with minor to serious injuries. The bus was carrying Chinese speaking tourists into Bryce Canyon."
It occurred on state road 12 (SR-12) at around 11:30 a.m. local time, about 5.6 kilometers west of Bryce Canyon, according to local authorities and the park.
The National Transportation Safety Board, an independent U.S. government agency responsible for civil transportation accident investigation, tweeted Friday afternoon that it was launching a team to investigate the crash.