Hong Kong's Cross-Harbour Tunnel reopens after two-week closure from vandalism
2019-11-28 02:50:11 GMT
2019-11-28 10:50:11(Beijing Time)
Xinhua English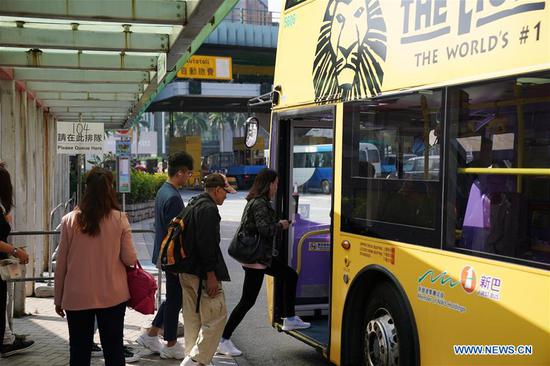 Citizens line up at a bus stop of cross-harbor traffic in south China's Hong Kong, Nov. 27, 2019. Hong Kong's Cross-Harbour Tunnel reopened on Wednesday morning after hundreds of people spent days to clear roads and repair damaged facilities of the main traffic artery. The tunnel had been forced to close for about two weeks due to rioters' vandalism. At 5:00 a.m. local time, the tunnel's toll gate resumed operation at Hung Hom, Kowloon, with all vehicle lanes opened. (Xinhua/Wang Shen)
Vehicles are seen at the Cross-Harbour Tunnel in Hong Kong, south China, Nov. 27, 2019. Hong Kong's Cross-Harbour Tunnel reopened on Wednesday morning after hundreds of people spent days to clear roads and repair damaged facilities of the main traffic artery. The tunnel had been forced to close for about two weeks due to rioters' vandalism. At 5:00 a.m. local time, the tunnel's toll gate resumed operation at Hung Hom, Kowloon, with all vehicle lanes opened. (Xinhua/Wang Shen)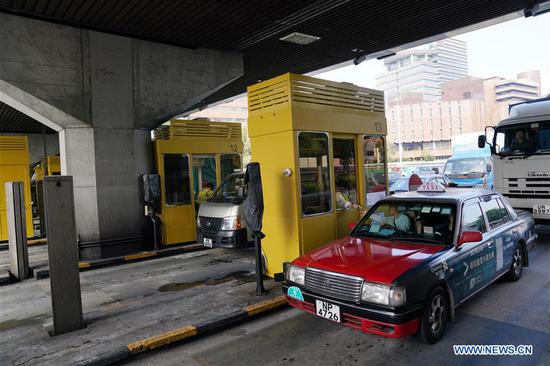 Vehicles pass by a toll gate of the Cross-Harbour Tunnel in Hong Kong, south China, Nov. 27, 2019. Hong Kong's Cross-Harbour Tunnel reopened on Wednesday morning after hundreds of people spent days to clear roads and repair damaged facilities of the main traffic artery. The tunnel had been forced to close for about two weeks due to rioters' vandalism. At 5:00 a.m. local time, the tunnel's toll gate resumed operation at Hung Hom, Kowloon, with all vehicle lanes opened. (Xinhua/Wang Shen)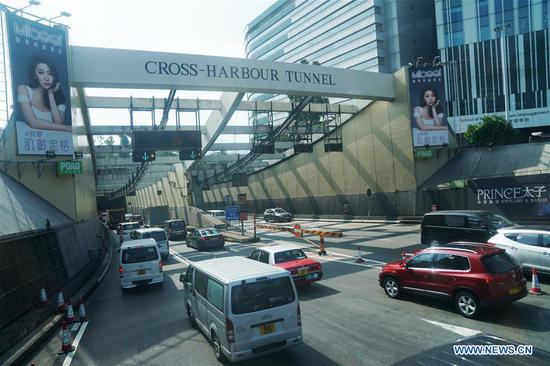 Photo taken on Nov. 27, 2019 shows the entrance of the Cross-Harbour Tunnel in Hong Kong, south China. Hong Kong's Cross-Harbour Tunnel reopened on Wednesday morning after hundreds of people spent days to clear roads and repair damaged facilities of the main traffic artery. The tunnel had been forced to close for about two weeks due to rioters' vandalism. At 5:00 a.m. local time, the tunnel's toll gate resumed operation at Hung Hom, Kowloon, with all vehicle lanes opened. (Xinhua/Wang Shen)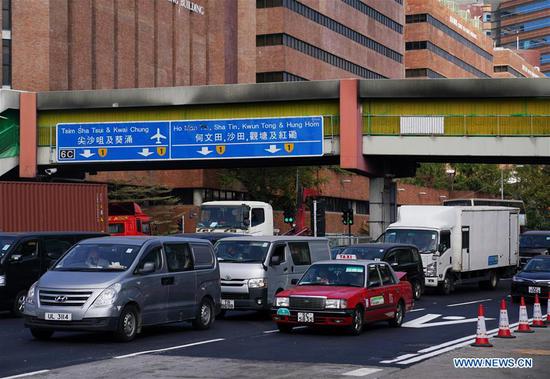 Vehicles arrive at the Cross-Harbour Tunnel in Hong Kong, south China, Nov. 27, 2019. Hong Kong's Cross-Harbour Tunnel reopened on Wednesday morning after hundreds of people spent days to clear roads and repair damaged facilities of the main traffic artery. The tunnel had been forced to close for about two weeks due to rioters' vandalism. At 5:00 a.m. local time, the tunnel's toll gate resumed operation at Hung Hom, Kowloon, with all vehicle lanes opened. (Xinhua/Wang Shen)
HONG KONG, Nov. 27 (Xinhua) -- Hong Kong's Cross-Harbour Tunnel reopened on Wednesday morning after hundreds of people spent days to clear roads and repair damaged facilities of the main traffic artery.
The tunnel had been forced to close for about two weeks due to rioters' vandalism.
At 5:00 a.m. local time, the tunnel's toll gate resumed operation at Hung Hom, Kowloon, with all vehicle lanes opened.
As traffic quickly increased, the tunnel returned to be as busy as usual. Buses were packed with commuters, and long tailbacks were spotted at the entrance of the tunnel.
Passengers welcomed the reopening. A man said that getting to work became an arduous journey during the past two weeks as he spent much longer time to change trains and buses and paid higher transport fare.
"It is irresponsible and irrational to destroy public facilities. Ordinary people had to suffer all the inconvenience and pay for the repair work," he added.
A taxi driver said other cross-harbor channels were jammed with cars during the past two weeks, expecting that his income would return to the average level after the reopening of the tunnel.
The tunnel, which links the Hong Kong Island and Kowloon, has been shut since Nov. 13, when rioters went on a rampage, throwing petrol bombs and setting fire to toll booths and a nearby footbridge. They also occupied a university nearby, threw debris onto the road, and attacked volunteers trying to clear the tunnel.
It took about 100 hours for some 800 government employees and workers to clear and repair the channel.
However, the vandalism left its traces. On the nearby footbridge, burn marks could be found at several places, and the broken top was covered by green nets.
Several passengers said that they hoped violent incidents would completely stop as soon as possible so that Hong Kong residents would live their peaceful lives again.
The tunnel, opened to traffic in 1972, is the first tunnel in Hong Kong built underwater. It provides the first road link between the Hong Kong Island and Kowloon. About 110,000 vehicles, or about 40 percent of cross-harbor traffic in Hong Kong, use the tunnel every day.