U.S. attempt to harm Hong Kong's stability, development will not succeed: report
2021-09-27 14:35:12 GMT
2021-09-27 22:35:12(Beijing Time)
Xinhua English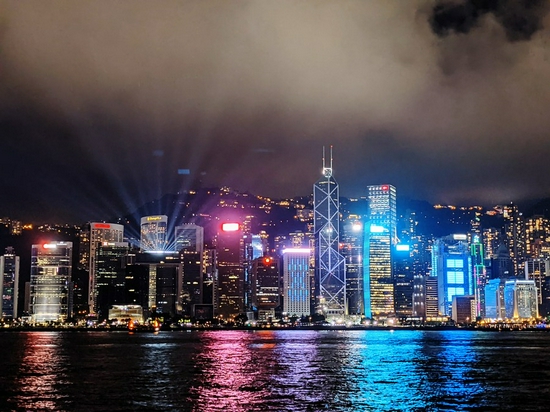 A light show is staged at the Victoria Harbor in south China's Hong Kong, July 1, 2021. (Xinhua/Wang Shen)
HONG KONG, Sept. 27 (Xinhua) -- Attempts of the United States and other Western countries to undermine Hong Kong's stability and restrain Hong Kong's economic development will not succeed, an official report by China's Hong Kong Special Administrative Region (HKSAR) government said.
The "Report on Hong Kong's Business Environment: A Place with Unique Advantages and Unlimited Opportunities" was released here at a press conference on Monday.
The United States has attempted to undermine Hong Kong's stability and restrain the development of China with a variety of destructive and disruptive acts during the past two years. "While these acts may cause some short-term disturbance to local business sentiment, Hong Kong's wide ranging institutional strengths remain intact," read the report.
According to the report, the number of business operations in Hong Kong with parent companies located outside Hong Kong exceeded 9,000 in 2020, largely the same as that in 2019.
As for merchandise trade, Hong Kong was ranked the world's eighth largest merchandise trading economy in 2019, and rose to the sixth place in 2020, the report said.
"Taking the first seven months of 2021 together, the value of total merchandise trade reached 5,616.8 billion Hong Kong dollars (about 721.5 billion U.S. dollars), up 13 percent from the high in the same period in 2018, and was the main driver of Hong Kong's economic recovery."
The report stressed that the above figures indicated that Hong Kong's goods trade activities were not affected by the so-called U.S. "sanctions," and on the contrary, the unreasonable acts of some Western countries, including the United States, towards China and the HKSAR will only harm or even sacrifice the interests of their own enterprises and investors in the end.
The report said the United States has benefited enormously from its economic and trade exchanges with Hong Kong, citing that from 2011 to 2020, the United States enjoyed a cumulative merchandise trade surplus of around 300 billion U.S. dollars with Hong Kong, which had consistently been one of the highest among the U.S. trading partners.
However, as the United States stirred international trade conflicts, its merchandise trade surplus with Hong Kong dropped from about 31.0 billion U.S. dollars in 2018 to about 26.1 billion U.S. dollars in 2019, it added.
In 2020, the U.S. exports to Hong Kong fell by 23 percent while imports from Hong Kong surged by 67 percent, resulting in a further 39 percent drop in the U.S. merchandise trade surplus with Hong Kong to around 16.0 billion U.S. dollars.
Noting that Hong Kong's financial system is closely integrated with the global economic and financial systems and is serving irreplaceable functions, the report said "Any moves by foreign countries to attack our financial system would send shock waves across the global financial markets including the U.S.'s."
"Hence, the so-called 'sanctions' or any other unilateral actions by Western countries will backfire, harming their own enterprises and people," it said. Enditem