Beijing kids get a shot in the arm!
2021-11-23 12:36:01 GMT
2021-11-23 20:36:01(Beijing Time)
Xinhua English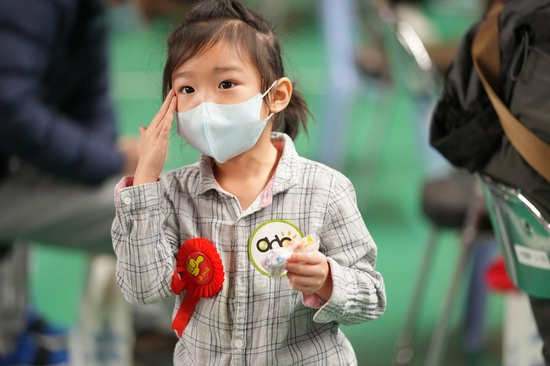 A child stays for observation after receiving a dose of COVID-19 vaccine in Xicheng District of Beijing, capital of China, Nov. 19, 2021. (Xinhua/Peng Ziyang)
BEIJING, Nov. 23 (Xinhua) -- At a vaccination center temporarily set up at a stadium in Beijing's Xicheng District, 5-year-old Yuan Bao was accompanied by his parents to receive the first dose of COVID-19 vaccine.
The venue was decorated with cartoon stickers and balloons, creating a cozy environment for children. After the vaccination, Yuan Bao smiled through tears as he received a "little warrior" medal as a reward for being brave.
Before the vaccination, the kindergarten informed parents about the safety of the vaccine and the need for inoculation. Teachers told the children the vaccine will protect them just like the police does, said Yuan Bao's mother.
The Chinese capital started COVID-19 vaccination for children between 3 and 11 on Oct. 28. As of Monday, more than 1.1 million minors of this age group had been vaccinated.
Children between 3 and 11 can only be inoculated under the condition that their guardians have been well-informed and have consented. Besides, guardians should be honest in informing medical workers about the health of their children.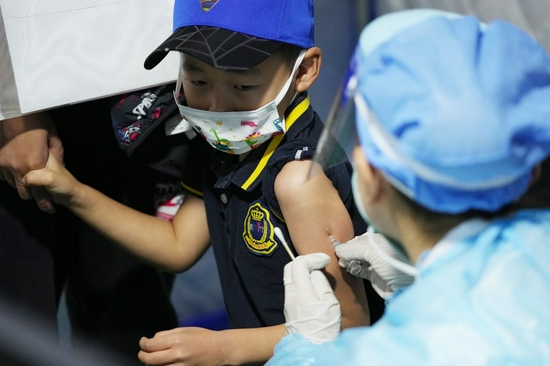 A child receives a dose of COVID-19 vaccine in Xicheng District of Beijing, capital of China, Nov. 19, 2021. (Xinhua/Peng Ziyang)
In Guang'an Gymnasium in Xicheng District, children held their parents' hands and walked into the vaccination hall adorned with their favorite cartoon characters. After vaccination, they received large gift packs containing masks, colored clay and chocolates.
Xicheng District launched a pilot vaccination program for children aged 3 to 6 on Nov. 17. Children of this age group could be vaccinated at nine vaccination centers. Medics also went to kindergartens to vaccinate the children.
Meng Chunyan, principal of the Hui Nationality Kindergarten in the district, said there are more than 560 children in the kindergarten. Of these, 490 are willing to be vaccinated, and 240 have received the shots.
"Most of the parents are highly cooperative, and we recommend that children should be vaccinated when they are in good state of health," said Meng. "Some children with cold, cough symptoms, or on medications have had their vaccination schedules postponed."
In addition to the child-friendly environment, professional teams have been sent to check every vaccination site and kindergarten to ensure security. Medical experts were also invited to the sites to answer questions by parents.
The doctors are experienced vaccinators whose daily work involves vaccinating children, according to the director of the health commission of Xicheng District.
Nearly 84.4 million children between 3 and 11 had been vaccinated against COVID-19 across China until Nov. 13. Health authorities will continue to promote vaccination in this age group, said Wu Liangyou, an official with the National Health Commission.
All children between 3 and 11 and without medical contraindications would likely complete vaccination by the end of this year, said Wu. Enditem