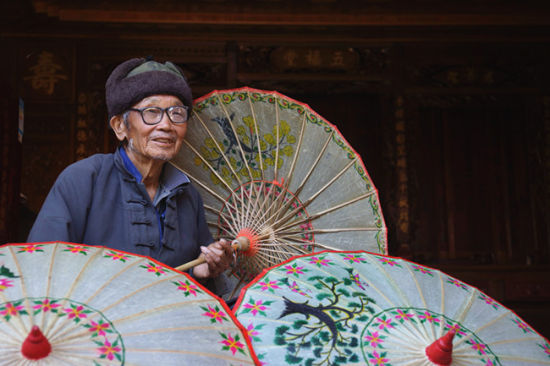 Zheng Yinghai, who is 90 years old, poses for a photo with umbrellas he made by hand. [Photo by Xu Jing/chinadaily.com.cn]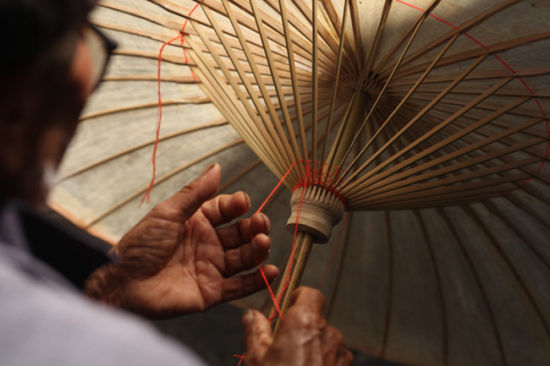 Zheng makes oiled paper umbrella totally by hand. [Photo by Xu Jing /chinadaily.com.cn]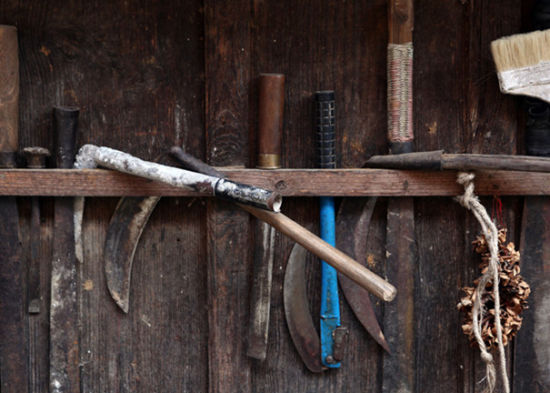 In Xingyang, villagers use simple tools to make umbrellas in accordance with the tradition. [Photo by Xu Jing / chinadaily.com.cn]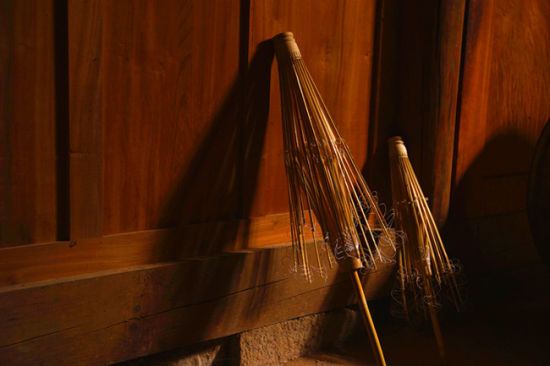 The umbrella ribs are made by bamboo chips cutting by hand. [Photo by Xu Jing/chinadaily.com.cn]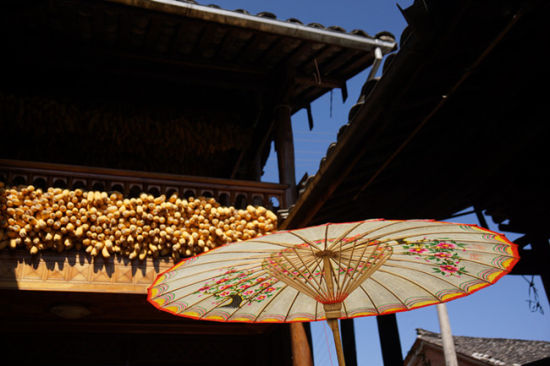 Despite his advanced age, Zheng Yinghai insists on drawing on his umbrellas every day. His umbrella paintings are adored by many constumers all over the country. [Photo by Xu Jing/chinadaily.com.cn]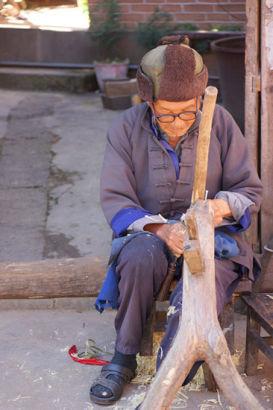 The elder Zheng uses traditional tools to cut bamboo chips in his courtyard. [Photo by Xu Jing/chinadaily.com.cn]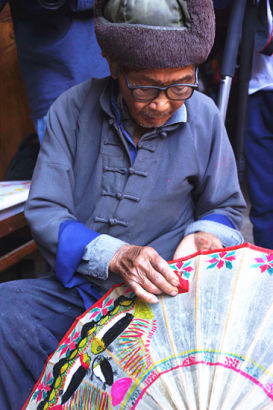 The elder Zheng affixes his own seal on an umbrella after a customer's perchase. [Photo by Xu Jing/chinadaily.com.cn]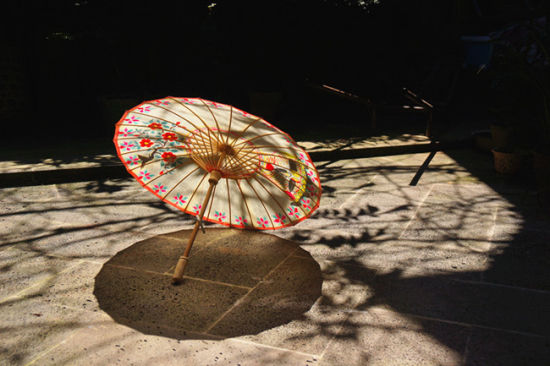 The elder Zheng prefers to draw local plants such as camellias, ginkgos and azaleas on the umbrella. [Photo by Xu Jing / chinadaily.com.cn]
Fifty kilometers from Tengchong county in Northwestern Yunnan province lies Xingyang village, a village with a nearly 300-year history of making handcrafted oiled paper umbrellas.
According to elderly villagers, the technique of umbrella making originated from Sichuan province. In the Qing Dynasty (1636 - 1912), a Xingyang local learned it from two Sichuan umbrella traders in Tengchong, and brought it back to the village. Since then, Xingyang villagers used local materials such as reeds and bamboo to carry on and develop the traditional technique during their slack season.
In the past, almost 80 percent of the households in the village made umbrellas in their spare time. They used to sell the umbrellas in the village fair to earn additional income. According to customs in areas surrounding the village, there must be two oiled paper umbrellas in a bride's dowry, because the word for oil is homophonic with "rich", and the word for paper is homophonic with the word for "son". The locals believe that oiled paper umbrellas can bring prosperity and more children to the new couples.
In fact, throughout Yunnan province, Xingyang oiled paper umbrellas are famous. Usually, most of their products are sold to Kunming, the capital of the province, as well as other large cities like Dali and Baoshan, and even cities in Myanmar.
However, oil paper umbrellas have lost their practical function gradually with the development of manufacturing, so handcrafted umbrellas lost their market due to the high cost of labor and the inconvenience of carrying the bulky umbrellas around. In the last 10 years, more and more young people in Xingyang village prefer to work in other cities.
Today, only five households maintain the tradition of making umbrellas, which are primarily made by elderly people. Zheng Yinghai, who is 90 years old, and a provincial keeper of intangible cultural heritage, is the oldest of them. He still draws on the umbrella and brushes it with wood oil.
"I helped my family members to make umbrellas since I was eight years old. In the 1940s, our business was really good. We once sold off 3600 handcrafted umbrellas to a merchant from Baoshan in one day. To meet the order, we slept less than three hours each day. There were modern umbrellas made by machine during that period, but most people couldn't afford them because of the price. Now, everything is different," Zheng said with a trace of regret.
Normally, there are more than 10 steps to make an umbrella. According to Zheng, even when he was young, he could make only two umbrellas each day because the process was really exquisite. The most difficult part is cutting bamboo into chips with different lengths and thickness, and drilling holes on each chip to produce umbrella ribs.
All the materials are carefully selected as well. Skilled craftsmen are used to buy handmade paper from Jietou town at the foot of Gaoligong Mountain because of its high quality. They also mix and boil tung-tree-seed-oil with varnish and persimmon juice all by themselves to produce the tree oil they need.
"A qualified handcrafted oiled paper umbrella can be used for more than five years at least. The more it is used, the more handy and beautiful they become. Compared with modern umbrellas, our umbrellas are more distinctive with hand-drawn patterns on the top," said Zheng.
According to Zheng Jiacai, second son of the elder Zheng, their umbrellas sell from 80 yuan ($11) to 200 ($31.6) yuan depending on the size. However, migrant workers from their village can normally earn 100 (15.8) yuan to 200 yuan each day.
"As my father gets older, we usually spent two or three days to make one umbrella. Definitely, our income is far less than those migrant workers. As you know, the sales of umbrellas are usually not stable, but getting a salary is different, and a much more steady source of income. If you work harder, you may earn more. So who wants to make umbrellas then?" said younger Zheng.
Fortunately, the local government realized the importance of keeping such a traditional technique, especially when it was listed as an intangible cultural heritage. The government organized 16 young people from this area to study the technique. Several Chinese media such as China Central Television Station report on these protection measures as well.
Meanwhile, along with the development of tourism in Tengchong town, more tourists from China and abroad visited the village in recent years, and bought umbrellas as a souvenir. The elder Zheng said proudly that he sold his umbrellas to visitors from more than 10 countries including the US, France and Japan.
"After the technique was recognized as an intangible cultural heritage, the industry has improved. More people know about our products, and how sophisticated and beautiful they are, we can sell them not only as umbrellas, but also as decorations, gifts and artworks. In the past, we sold umbrellas at tourist attractions. Now, they come to our village. Maybe in the future, more young villagers would like to return home, return to the traditional technique," said the younger Zheng.