School of fish trains China's future Olympic champions
2016-08-14 23:54:03 GMT
2016-08-15 07:54:03(Beijing Time)
Global Times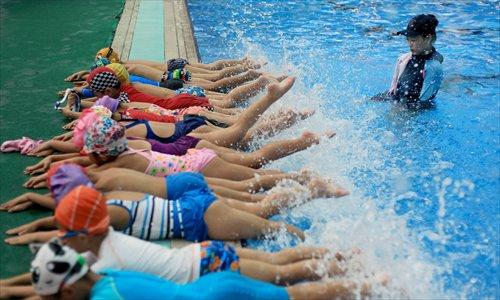 A coach from the Chen Jing Lun Sports School teaches children how to kick the water. Photo: Yang Hui/GT

Swimming is one of Team China's trump cards, a fact proved once again at the ongoing 2016 Rio Olympic Games. As of Sunday, Chinese swimmers have scooped up six medals in the swimming pool.

A majority of China's swimming medalists, both in the Olympic arena and other international and national games, are from East China's Zhejiang Province.

Hangzhou Chen Jing Lun Sports School, based in the provincial capital Hangzhou, takes pride in having trained 13 swimming world champions including Sun Yang, who just won the gold in the 200 meters freestyle in Rio. Sun spent six years at the school.

The school has a strict scheme it uses to select swimmers. In June every year, the schools opens training sessions to children, and during the process screens for potential podium-toppers.

At 7 am every day, the children are sent to the school by parents to practice kicking in the water and to familiarize themselves with the pool under the guidance of trainers. Coaches keep their eyes open for potential talents. At the end of August, the trainees will be shortlisted to about 300, then be divided into smaller groups and move from outdoor pools to a deeper, indoor pool. By the end of year, another half of the swimmers will be eliminated, and the remaining 150 will officially become members of the Chen Jing Lun swimming squad.

Massive public participation in the sport has been the basis of Zhejiang's success in the water. Locals like sending their children to swim to improve their health. In order to have a chance of getting their children into the Chen Jing Lun school, parents have to apply several months prior to the opening session, and the situation is similar at other top training schools.

Young swimming medalists from Zhejiang, including Sun Yang and Ye Shiwen, have also greatly increased the popularity of the sport among the province's children, many of whom wish to learn the sport and train for their very own gold medals.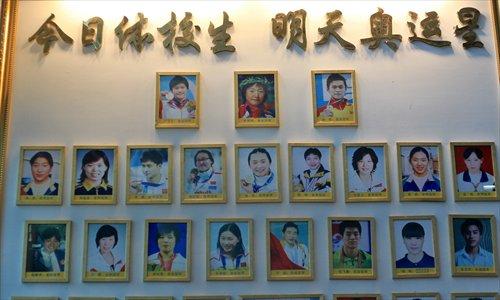 A wall covered with pictures of medalists trained by the school. Photo: Yang Hui/GT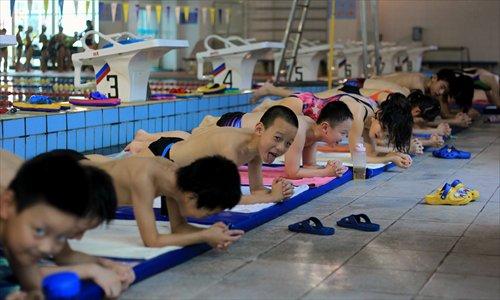 Children warm up for a day of training. Photo: Yang Hui/GT
A coach teaches a child the backstroke. Photo: Yang Hui/GT
Parents watch as their children practice. Photo: Yang Hui/GT
Children wrap themselves in towels after practice. Photo: Yang Hui/GT