Shanghai builds new school for French and German expats' children
2016-12-05 00:16:13 GMT
2016-12-05 08:16:13(Beijing Time)
Shanghai Daily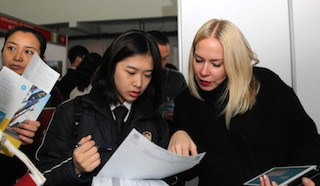 Photo: Shanghai Daily
Construction started on Saturday on a new campus for German and French schools in Shanghai's Yangpu District to meet the rising demand of expats for quality education for their children.
The 50,000-square-meter Shanghai Eurocampus, supported by the governments of both nations and the Yangpu District, will open in 2018 to offer education from kindergarten through high school for 2,000 German- and French-speaking children, said Ralph Koppitz, chairman of board of the school. The annual tuition fee is about 140,000 yuan (US$20,440), he said.
Shanghai is the biggest investment destination in China for over 2,000 German and French companies.