55 Chinese students in Australia receive gov't scholarships
2019-05-07 03:11:45 GMT
2019-05-07 11:11:45(Beijing Time)
Xinhua English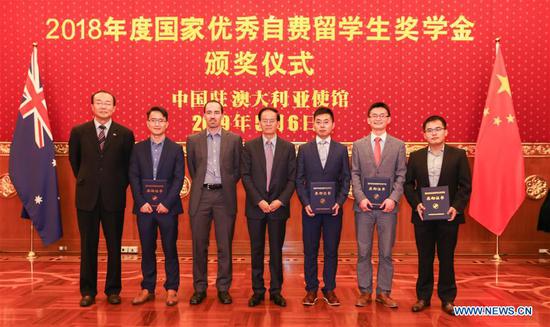 Award winner representatives and guests pose for a group photo in Canberra, Australia, May 6, 2019. A total of 55 Chinese students studying in Australia received the 2018 Chinese Government Award for Outstanding Self-Financed Students Abroad, according to Chinese Ambassador to Australia Cheng Jingye on Monday. (Xinhua/Zhang Xinxin)
CANBERRA, May 6 (Xinhua) -- A total of 55 Chinese students studying in Australia received the 2018 Chinese Government Award for Outstanding Self-Financed Students Abroad, according to Chinese Ambassador to Australia Cheng Jingye on Monday.
Four award winner representatives took part in a ceremony in the Chinese Embassy in Canberra on Monday evening.
Ambassador Cheng encouraged students to work hard and deepen their understanding in Australia.
"It is my hope that you could show the Australian people the positive image of Chinese students -- active, optimistic, healthy, talented, and boost the exchange and enhance understanding between Chinese and Australian people, especially the youths," he said.
Song Yongze, a doctoral student in the Curtin University in Western Australia, said he was honored to receive the scholarship.
"The award will become an incentive for me to work even harder," he said.
"The development of our country greatly improved people's living standard, but there are still problems to solve which require our unremitting efforts," said Song. "Hopefully we could use what we learn here to make our country and the world a better place."
The Chinese Government Award for Outstanding Self-Financed Students Abroad is a scholarship set up by the China Scholarship Council in 2003 to honor overseas Chinese students with outstanding academic accomplishments.
According to official statistics, 500 Chinese students studying abroad received the scholarship in 2018.