How to translate "对中国采取卡脖子的方法"?
2021-03-24 01:16:26 GMT
2021-03-24 09:16:26(Beijing Time)
Sina English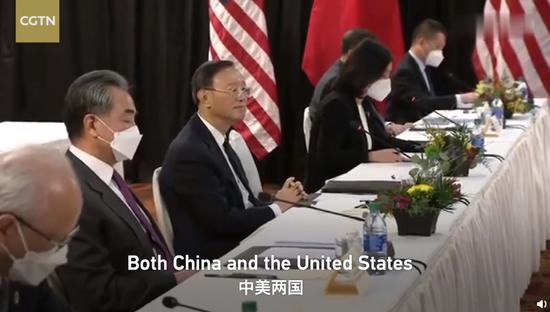 Chinese translator Zhang Jing has earned a lot of fans on Chinese social media following her solid performance and accurate translation at the high-level China-US meeting in Alaska on Friday, leading to applause for the Chinese female diplomatic personnel taking part in the mission.
The highlight of Zhang's interpretation came when she smoothly translated several speeches by the Chinese delegation that were more than 10 minutes long fluently and accurately into English, which earned her applause and respect from netizens, including many majoring in interpretation.
The following is the translation of "对中国采取卡脖子的方法"by Zhang Jing at the high-level China-US meeting:
cutthroat
/ˈkʌtθrəʊt/
打压的,卡脖子的
释义:
(adj.)not involving considering or worrying about any harm caused to others
激烈的;残酷无情的;不择手段的;卡脖子的
例句1:
"历史会证明,对中国采取打压的方法,卡脖子的方法,最终损失的会是自己。"
History will prove that, if you usecutthroatcompetition to supress China, you will be the one to suffer in the end. (来源:2021中美高层战略对话,张京翻译)
例句2:
The advertising world can be a verycutthroatbusiness.
广告行业的竞争会相当残酷。(来源:Cambridge Dictionary)