NYC marks World AIDS Day
2018-12-03 00:46:45 GMT
2018-12-03 08:46:45(Beijing Time)
Sina English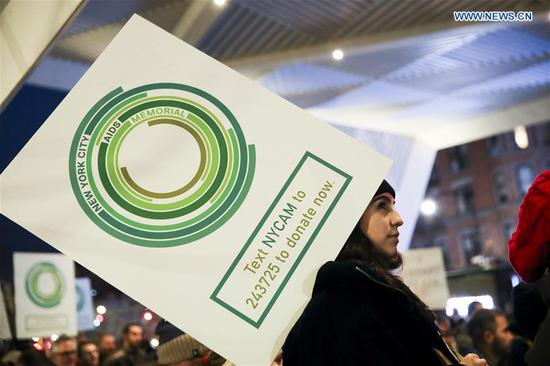 A woman participates in a World AIDS Day memorial in New York, the United States, Dec. 1, 2018. The memorial featuring an interactive light experience was held in Lower Manhattan on Saturday, marking the World AIDS Day and honoring the victims of the deadly disease. Over 200 people gathered at the New York City AIDS Memorial Park for the event #LightTheFight. Holding green glow sticks, they sang songs and observed a moment of silence for the more than 100,000 people who have died of AIDS in the city and the tens of millions more throughout the world. (Xinhua/Wang Ying)
A memorial featuring an interactive light experience was held in Lower Manhattan on Saturday afternoon, marking the World AIDS Day and honoring the victims of the deadly disease.
Over 200 people gathered at the New York City AIDS Memorial Park for the event titled #LightTheFight. Holding green glow sticks, they sang songs and observed a moment of silence for the more than 100,000 people who have died of AIDS in the city and the tens of millions more throughout the world.
Following the observance, a fleet of five trucks emblazoned with LED signs kicked off a journey through the city, displaying quotes from poets, artists, educators and people living with HIV/AIDS that tell about the battle against the disease worldwide.
"It's crucial to maintain awareness that the AIDS epidemic is live, in New York and around the world," said Jenny Holzer, the designer of the light installation. "The messages on the trucks' screens, contributed by feeling people, could comfort those affected by AIDS and reignite fires in bellies to end AIDS forever."
#LightTheFight also marks the launch of the NYC AIDS Memorial Arts and Education Initiative, which will support HIV/AIDS-related educational and arts programming to be held around the city.
Founded in 1988, World AIDS Day is an international day dedicated to raising awareness of the disease and mourning those who have died of it. It takes place on Dec. 1 each year.