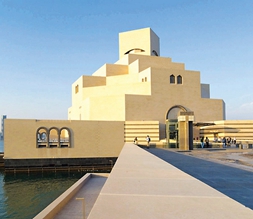 The Museum of Islamic Art in Doha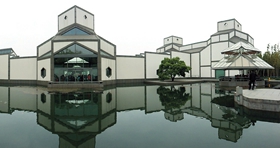 The poetic Suzhou Museum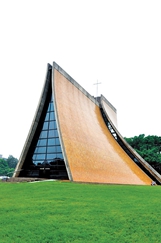 The Luce Memorial Chapel in Taiwan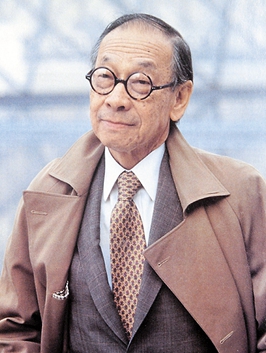 Internationally acclaimed Chinese-American architect I.M. Pei will celebrate his 100th birthday next month.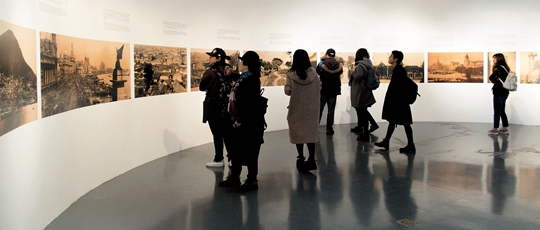 An exhibition reviewing architect I.M. Pei's life and achievements is underway at Suzhou Museum.
People visiting the National Gallery's East Wing near Fourth Street in Washington DC often find an unusual scene: Among all the names of the major contributors to the gallery engraved on the marble wall, only that of I.M. Pei seems to be veiled due to frequent rubbing — many visitors believe that will bring them good luck.
It is a "touching" tribute to Pei who designed the building.
Born into a Chinese noble family and also establishing himself in the US and European upper society, Pei has every reason to shine in the East and West.
"I.M. Pei Documents," an exhibition organized by the Suzhou Art Museum and the Suzhou Hall of Fame, highlights the life and achievements of the 100-year-old Chinese-American architect.
The exhibition, with great support from Pei's family and his architecture firm, is endorsed by Pei himself, now living in New York.
It is the first comprehensive exhibition of Pei in China, and some of the items — from photos, video, documents to architecture models — are seen in public for the first time.
"This is not just a retrospective show of the master," says Lin Bing, curator of the exhibition and also a student of Pei. "It details some background information of his life and some of his unique architecture designs. I think it is especially meaningful to have it here in his hometown — Suzhou."
Pei's ancestry traces back to the Ming Dynasty (1271-1368), when his family moved from Anhui Province to Suzhou. His family used to be one of the four richest families in Suzhou.
Pei's father was one of the founders of Bank of China.
Born on April 26, 1917, Pei spent some of his childhood days in the Lion Grove Garden in Suzhou.
The unusual rock formations, stone bridges, and waterfalls remained etched in his memory for decades.
He spoke later of his fondness for the garden's blending of natural and man-made structures. Now the Lion Grove Garden is listed as a UNESCO World Heritage Site.
Pei later recalled, "I was not aware that I learned something from my experiences in Suzhou until much later. When I think about it in retrospect I must say that it did have an influence on my work. It made me aware of complementarity of man and nature, not of nature alone.
"Somehow, the hand of man joining with nature becomes the essence of creativity. The gardens of Suzhou taught me that lesson."
Curator Lin, also a member of Pei's team that designed Suzhou Museum, has a clear vision of how to present the exhibition and his message.
The exhibition adopts some of the geometric forms that Pei uses in his designs. The exhibits are presented chronologically and have Pei's own words as background to help people learn about him as a person rather than just his works.
Pei said he was drawn more to music and other cultural forms than to his father's domain of banking and launched his own artistic exploration.
When he was 10, Pei moved with his family to Shanghai after his father was promoted. He attended the Saint John's Middle School, run by Protestant missionaries. Pei enjoyed playing billiards and watching Hollywood movies, especially those of Buster Keaton and Charlie Chaplin.
He also learned rudimentary English from Bible and novels by Charles Dickens.
One of his comments in the exhibition reads: "I was exposed to the new not only in architecture and arts, but also in lifestyle.
"It was very exciting, but also a very corrupt place. So I learned both good and bad from Shanghai, the good part of it was that I saw a little of the future in Shanghai that I was not able to see in Suzhou.
"In Suzhou, I was very conscious of the past, but in Shanghai I saw the future. Or the beginning of the future."
In 1935, Pei furthered his studies at the University of Pennsylvania, MIT and Harvard University.
"Have you seen the copies of the letter he wrote to his father after he arrived in the United States? They were found in the Shanghai Archives Bureau," Lin says. "Living in a foreign land, Pei wrote to his father almost every week as he missed his family."
When Pei was in China as a young man, he didn't really know what architecture was. He thought it was about engineering, and design was not on his mind.
He studied physics and mathematics, but not art and history. He went to MIT to study engineering, where he first began to think about architecture.
"In his last year of graduate school at Harvard (in 1946), he wanted to do something about China," Lin explains. "So he chose to design a museum for Shanghai. All the museums that had been built in China at that time were neoclassical.
"For him, the columns and pediments of the Beaux-Arts style were wrong because Chinese objects were often small."
It is a pity that Pei's "Shanghai Museum" only appears on the sketches instead of a concrete building.
But the master did create something for his country, including the Fragrant Hill Hotel in Beijing, the Suzhou Museum in Suzhou, the Bank of China Tower in Hong Kong and the Macau Science Center.
In addition to Pei's working pictures and information about these works, the exhibition also includes five architectural models of his works, including the National Gallery's East Wing, the Louvre Pyramid and the Bank of China Tower in Hong Kong.
At the end of the exhibition is a long table, where visitors from Suzhou are encouraged to write birthday cards that will be sent to Pei for his 100th birthday next month.
"I think he will be happy to read all the blessings from his hometown," Lin says with a smile.
Interview with curator Lin Bing
Q: How long have you prepared for this exhibition?
A: It took almost a year, and we also needed to divide the exhibition space which took several months.
Q: How's Pei's health condition?
A: He still drinks wine and whisky every day. He complains that there is no authentic Chinese food to match with them. He misses gorgon, a Suzhou specialty.
Q: What is his favorite work?
A: It's very hard to say. Jackie Kennedy interviewed him for the Kennedy Library in 1964, because of which he was invited to design the National Gallery. Then from the exposure of the National Gallery, French president chose him to design the Louvre Pyramid.
Pei once said: "You always need a person with a vision to pull you upward, and I have been fortunate to know a number of such exceptional individuals."
Q: As one of the team members for the Suzhou Museum, what impressed you most?
A: Pei is such a perfectionist. He took care of everything. He even positioned the lotus in the pond. In his eyes, the Suzhou Museum was done well — to the north is the Humble Administrator's Garden; to the east is the Court of Prince Zhong; while the Lion Grove Garden is to the south. He thought that the museum should be new without damaging its surroundings. The building should be integrated with its context, without looking like a new object.
Q: Pei is known for combining traditional architectural elements with progressive designs based on simple geometric patterns. He seems to be "evergreen," doesn't he?
A: For Pei, retirement doesn't refer to age, but to health condition. As his memory started to fail, he had to stop working in his 90s. His last work was the Miho Museum in Kyoto.
"I.M. Pei Documents"
Date: Through May 3 (closed on Mondays), 9am-5pm
Venue: Suzhou Art Museum, 2075 Renmin Rd, Suzhou
How to get there: It takes 25 minutes from Shanghai to Suzhou by high-speed train. Once at the railway station, take bus No. 1 to Pingmen Road.