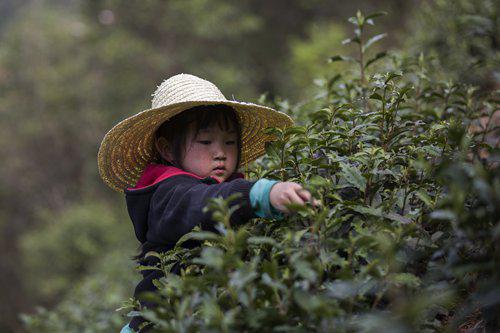 Zheng Lingxin picks tea on April 8 in Xintian village, Huangshan, East China's Anhui Province, a major tea producing area famous for its Anhui Maofeng tea. Photo: IC
The Xieyuda Tea Company in East China's Anhui Province started selling Huangshan Maofeng in 1875.
The name of the green tea encapsulates both its provenance and its appearance. It is grown close to Huangshan, a range of spectacular mountains and UNESCO World Heritage site in the south of the province. The leaves are covered in fine white hairs (mao) and are said to resemble mountain peaks (feng).
Anhui is well known for its teas. Four of the teas generally regarded as among China's best, including Huangshan Maofeng and Keemun black tea, are grown there.
Huangshan Maofeng was a hit from the very start.
"In the late 19th century, Huangshan Maofeng was shipped from Shanghai to Yingkou in Liaoning Province," said Xie Mingzhi, deputy general manager of Xieyuda.
"Our tea was then transported from Liaoning through Northeast China, and across Siberia to Moscow, whence it was distributed throughout Europe."
Xieyuda products have been included in China's state gifts to Russian President Vladimir Putin and German Chancellor Angela Merkel.
"I am honored our tea has become a business card for China," Xie said. "Premium green tea is still not very common in the West. Through the Belt and Road [Initiative], I hope it will travel Eurasia as it did in the past, and even further afield."
Go-out and go-ahead
Enrique Escorza, deputy chief of mission at the Mexican Embassy in China, who once led a business delegation to Anhui, who attended a promotional tea event in Beijing on Tuesday.
"The tea in Anhui tastes wonderful," he said. Tuesday's event further convinced Escorza of Anhui's potential and he plans to bring even more business representatives to visit in future.
Attending the event, Foreign Minister Wang Yi recalled how Anhui's businessmen set a precedent of "go-out" and "go-ahead," when they expanded trade to Southeast Asia and Europe four hundred years ago.
This endeavor has been brought back to life today with the Hexin'ou (Hefei-Xinjiang-Europe) railway line, in service since 2014. Trains now regularly run between Hamburg in Germany and Hefei, capital of Anhui.
"Italy and Anhui could cooperate in a variety of industries, such as agriculture, food safety, health, and manufacturing," said Ettore Francesco Sequi, Italy's ambassador to China. He also plans to lead a business delegation to Anhui.
Delicate charm
In 1986, Yuan Hongbin founded a studio that produces a unique brand of silk embroidery. More than 30 years later, he continues his delicate work. The pictures are diverse in subject, ranging from portraits to pastoral depictions of pandas, kittens, and flowers.
Yuan's studio in Anhui is now home to over 40 professional artists. Their exquisite works are sold across China.
Over the years, Yuan's art has been presented to Juan Antonio Samaranch, former president of the International Olympic Committee, and US President George HW Bush.
"[German Chancellor] Merkel received a silk portrait I made for her when she visited Anhui in 2015," said Yuan. "She was very pleased with it."
"Culture is a thread connecting the hearts of the world," he continued. "I hope that our handcraft will find more friends around the world, and spread the beauty of Chinese culture."
During a working lunch for world leaders at Beijing APEC in 2014, each guest received a unique souvenir - a bamboo slip engraved with the menu. Zhu Wei, a descendent of 12th century philosopher Zhu Xi, was the craftsman responsible for the gifts.
Zhu founded his studio in Huangshan in 2002, after graduating from college. It has evolved into a company worth around 120 million yuan ($17.5 million) and his workshops are spread across 25 hectares.
"Bamboo carving embodies the elegance of life in the oriental world," said Zhu. His works are sold in France, the United States, Japan and Switzerland.
"The more I know about Anhui, the more I am impressed," Andre MK Lee Hon Chong, Mauritian ambassador to China, told Xinhua.
Reaching out

There is a lot more to the province than tea and rural artisans. Anhui is currently the largest domestic appliance production base in China. Around 10 percent of the world's laptops are made there. Whirlpool Corporation, a Fortune 500 company headquartered in Michigan, the US, has its global research center in Anhui.
According to the local bureau of commerce, there are currently 222 countries and regions engaged in trade with Anhui.
Seizing the opportunities presented by China's Belt and Road Initiative, many Anhui-based enterprises, such as Anhui Jianghuai Automobile and Chery Automobile, are expanding rapidly overseas. Last year, 27 Anhui enterprises set up in countries along the Belt and Road.