Last Da Vinci painting in private hands will be auctioned next month
2017-10-12 01:40:18 GMT
2017-10-12 09:40:18(Beijing Time)
Agencies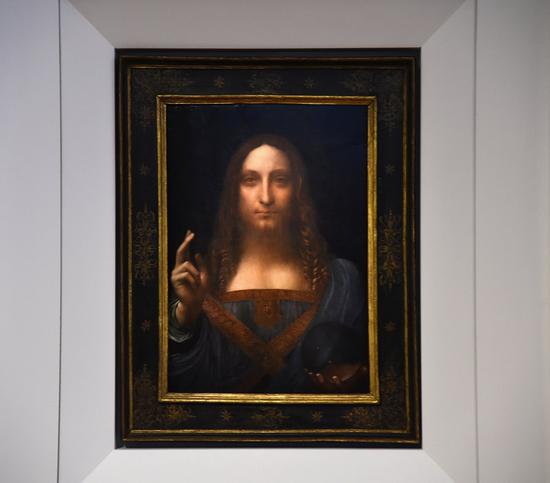 Christie's unveiled Leonardo da Vinci's Salvator Mundi at Christie's New York on Tuesday in New York City.
A painting once bought for $60 is about to go under the hammer, billed as "the greatest artistic rediscovery of the 21st century." Leonardo da Vinci's "Salvator Mundi" was unveiled at Christie's New York Auction house on Tuesday, and is expected to fetch about $100 million when it goes on sale in November.
The only known Leonardo da Vinci painting in private hands is heading to auction.
The portrait of Jesus Christ, Salvator Mundi, was only recently confirmed to be a da Vinci. This piece was thought to be a copy of a destroyed original. And it's still not clear where the painting was, exactly, for more than a century.
Christie's says that this is "one of fewer than 20 surviving paintings accepted as from the artist's own hand." It is expected to sell for some $100 million, according to Reuters and The Associated Press, when it is auctioned at Christie's in New York on Nov. 15.
It's not clear who is selling the mysterious painting — according to the AP, it is identified only as a "private European collection."
The work shows Jesus Christ bathed in light, with his right hand raised in a benediction and his left holding a translucent orb. His face is framed in brown curls and he is wearing bright blue robes with gold details.
The auction house says Salvator Mundi was definitely in the collection of King Charles I of England, based on records collected in 1650 after his execution a year earlier. It was sold and then eventually returned to his son King Charles II.
From 1763 to 1900, the painting was missing, Christie's says. During this time, its "authorship by Leonardo, origins and illustrious royal history [were] entirely forgotten." At some unknown point, the work was covered in additional layers of paint. Then, it was sold at auction in 1958 for the bargain price of 45 pounds, having been mistaken for a copy of the Renaissance master's work.