Ancient tomb found at Sun Yat-sen University in south China's Guangzhou
2019-01-08 02:31:40 GMT
2019-01-08 10:31:40(Beijing Time)
Sina English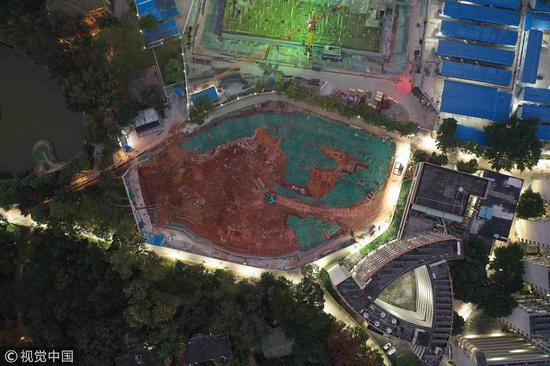 A bird-eye view of the construction site where an ancient tomb is found at Sun Yat-sen University. /VCG Photo
An ancient tomb was found in a construction site next to the Chunhui Yuan Canteen in Guangzhou South Campus, Sun Yat-sen University, recently.
The university has confirmed the news. It said a declaration was made and the department responsible for the protection of cultural relics has interfered in the relevant work.
The news was a hit via several social media platforms in China like Wechat and Weibo Sunday, firstly brought up by the students and working staff in the campus, with some first-hand photos taken at the site.
In those photos, various cultural relics could be seen, including jars with lids, and some statues in the shape of goat and chicken.
According to China News Service, the construction project is for a new canteen in the university.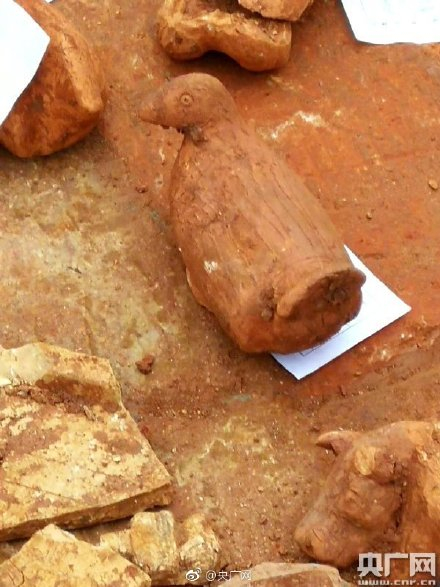 A bird-like statue found at the construction site near Chunhui Yuan Canteen in Sun Yat-sen University. /CNR Photo
According to an officer from the Guangzhou Municipal Institute of Cultural Heritage and Archaeology, the terrain of the place where the Campus is located is relatively high and was suitable for ancient people to live and produce. It was also a good place to bury dead people at that time.
The workers have found one tomb from the Eastern Han Dynasty (25AD-220AD), two from the Ming Dynasty (1368AD-1644AD), ten from the Qing Dynasty (1644AD-1911AD), and also the ruin of a well.
The Institute has also announced that it will make a rescue excavation to the relics and tombs, and make sure all relics are securely protected.
Social media users were excited about the story, and many people call the university "a place of treasure" or "a lucky place." Lots of students learning archaeology and history even take the news as an online practice case, making a good inference and explanation of the relics showed online.