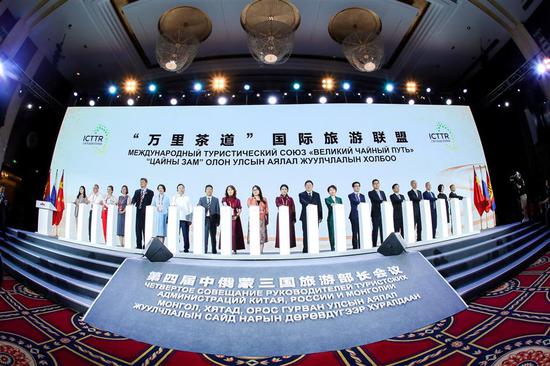 Four new members join in the "Tea Road" International Tourism Alliance, bringing the total number of members to 20.
The "Tea Road" Cultural and Tourism Expo kicked off in Ulanqab City, north China's Inner Mongolia Autonomous Region, on Sunday, displaying the history, natural scenery and intangible cultural heritages of "Tea Road" stops in China, Russia and Mongolia.
The "Tea Road," a prosperous trade route for nearly three centuries, is an extension of the ancient Silk Road and part of the "Belt and Road" construction. It stretches over 13,000 kilometers and spans China, Russia and Mongolia.
Architectural outlines, videos and photos and interactive installations with augmented reality technologies are being featured during the expo running through Thursday, enabling visitors to experience the glamour of the ancient road.
The classicial architecture and clothing of Inner Mongolia, and its traditional culture and items are also on display.
The expo is being hosted alongside the Fourth Tourism Ministerial Conference of China, Russia and Mongolia, which was held on Sunday in Ulanqab.
Four new members, including Novosibirskaya and Sverdlovsk of Russia, joined the "Tea Road" International Tourism Alliance during the conference, bringing the total number of alliance members to 20.
Among the members of the alliance, established in 2016, are China's Inner Mongolia, Fujian Province and Jiangxi Province as well as Irkutsk of Russia and Ulan Bator, capital of Mongolia.
Tourism cooperation is an important part of the cooperation among China, Russia and Mongolia, and it plays an irreplaceable role in deepening the understanding and friendship between the people of the three countries, said Luo Shugang, China's minister of culture and tourism.
A number of tourism routes stringing spots along the "Tea Road" have been developed, boosting tourism among the three countries, he noted.
By May this year, Russian citizens had made 1.05 million visits to China, a rise of 15.8 percent from the same period last year, and citizens from Mongolia made 760,000 visits to China, up 3.2 percent.
Meanwhile, Chinese citizens had made 720,000 visits to Russia by May, an increase of 16.2 percent and 60,000 visits to Mongolia, about the same.
The "Tea Road" International Tourism Alliance is an important achievement of the cultural and tourism cooperation between the three countries, which deepens trade and cultural exchanges and friendship, Luo said.
Authorities of the three countries will further promote more convenient tourist visa policies, simplify entry and exit procedures, open more chartered flights and trains, develop cross-border self-driving tours, and promote cooperation in tourism insurance, guide training, multi-language signs and catering services, the minister revealed.
They will also jointly develop and promote quality tourism products and cross-border "Tea Road" tourism routes to increase the cultural allure of tourist destinations, Luo added.
(Agencies)