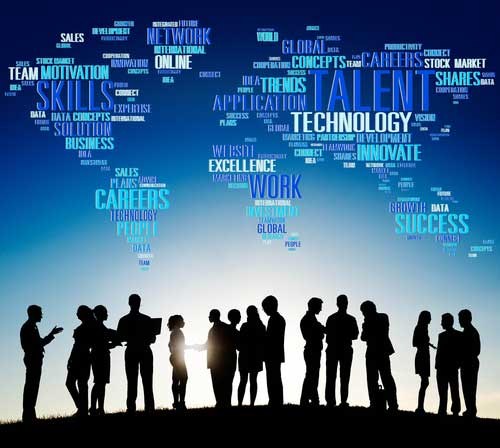 Photo:Shanghai Daily
Foreigners will find it easier to work in Shanghai after the city released a series of policies yesterday to attract international talent as it works to build a global center for scientific and technological innovation.
From November 1, foreigners will only have to apply for a unified work permit as the two types of work permits for ordinary foreign employees and foreign experts will be streamlined into one. The application process will also be simplified.
The city government said implementation details are still being reviewed, but the central authorities have issued some guidelines when they announced this month the launching of a pilot scheme of unified work permit for expatriates in nine provinces and cities, including Shanghai.
Foreign workers will be classified into categories A, B and C — A for top talent, B for professional talent, C for unskilled workers or those working in the service industry.
Simplifying the application process will mean some materials will no longer be needed, such as a personal resume.
The practice will be applied to foreigners across the country based on experiences accumulated in the pilot province and cities when the trial ends next April.
Current work permits can still be used as long as their dates are valid.
Shanghai last year handled 8,599 applications for foreign expert work permits and 120,933 for employment licenses for foreign employees, more than any other provinces and cities, said the government.
Another new policy announced by Shanghai allows students who graduate from local universities without work experience to find employment in the Shanghai Pilot Free Trade Zone and the Shanghai Zhangjiang National Innovation Demonstration Zone.
It is an upgraded version of a policy introduced last year to allow foreign postgraduates of local universities to work directly after graduation in the two zones without work experience.
Previously, foreigners needed to have at least two years' work experience to apply for work and residence permits in Shanghai.
By August this year, 64 foreign postgraduates have obtained work permits under the policy, said the city government.
Authorities said they are also considering expanding the policy to foreign graduates of universities outside of Shanghai.
Foreign students at local universities wishing to stay in the city are delighted at the news.
"It brings foreign students real big opportunities to find a well-paid job and simultaneously continue our life here," said Tatiana Skuratova, a Russian international relations major at Tongji University.
"All the networking, professional skills and other aspects of life you've been receiving in China would be in vain if you leave the country, if you have to leave China without wanting to," she said. "The new law is indeed a very good news. I truly believe that the regulations for people coming from abroad is becoming more flexible here."
Skuratova said she had planned to go somewhere in Southeast Asia after graduation next year, but now she was considering staying in Shanghai.
For Colombian student David Janna, who is studying international business at East China Normal University, the reforms have brought an extra bonus to his work plan.
"I planned to pursue a master's degree while taking internships after graduation next year to meet the requirement for work permit here," he said. "But now I can also work in the city directly if I find a good job."
Shanghai is not only trying to keep outstanding international talent at local universities, but also attract graduates from top universities abroad.
Another new policy allows regional headquarters of transnational companies, investment companies and foreign-funded research and development centers, which are registered in the two trade zones, to employ graduates from leading foreign universities, with or without work experience.
The new policy will also lower requirements for foreigners involved in scientific and technological innovation to obtain Shanghai Residence Card B, which enables holders to enjoy certain citizen benefits.
The city will provide extra benefits for the card holders, such as exemption from housing property tax for their only residence, allowing their children aged from 3 to 12 to study at local schools and participation in a local housing provident fund, said the government.
Shanghai has been reforming its talent recruitment policies in recent years. Last year, it introduced 20 regulations, including some to help foreign workers to apply and renew required certificates conveniently. This has benefited many people since the changes took effect last year.
One eye-catching policy was to lower the threshold for permanent residence applicants, allowing expats, who have worked in the city for four consecutive years and have lived in China for at least 6 months a year to apply for the residence permit providing their salaries met required levels.
By the end of June, 503 senior overseas employees and their relatives had submitted applications, eight times the number in the same period before the new policy came into effect, and 166 of those had been approved by the Ministry of Public Security.
Shanghai also canceled the 60-year-old age limit to apply or get work and residence permits for high-level foreign professionals last year. If the applicants are recognized as "foreign talent" by the authorities, they could be issued permits lasting five years. And they can also apply for a permanent residence permit after working for three years if their employers back their case.
A total of 96 foreign expats have been issued such 5-year visas, including 27 older than 60.
Most expats need to renew their residence permits once a year, but from last year, they can have their permits renewed for 5 years after two previous renewals. More than 1,800 qualifying expats have applied for the 5-year permits.