Shanghai retains crown as top city for expats
2017-04-17 00:44:09 GMT
2017-04-17 08:44:09(Beijing Time)
Global Times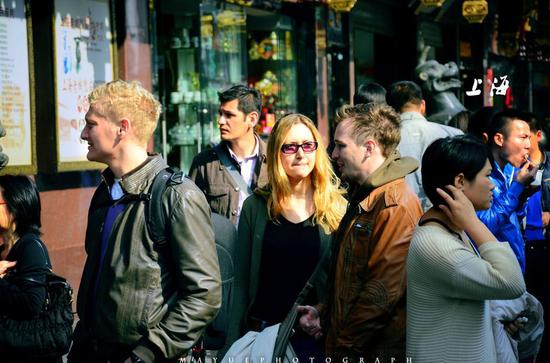 Photo: Internet
Jobs, economic development major attraction for foreigners
For the fifth year in a row, Shanghai has topped a pool to find the most attractive Chinese city for foreigners.
The list of the top 10 cities was released by the State Administration of Foreign Expert Affairs under the State Council on Saturday at a forum during the 15th Conference on the International Exchange of Professionals, held in Shenzhen, South China's Guangdong Province over the weekend.
"Shanghai has many job opportunities for foreigners and has formed a good immigration environment as it's been open to foreigners for a long time," Sheng Guangyao, a research fellow at the Institute for Urban and Environmental Studies of the Chinese Academy of Social Sciences, told the Global Times on Sunday.
In December 2016, the Ministry of Public Security announced 10 rules related to China's entry and exit policies, which authorized Shanghai Zhangjiang National Innovation Demonstration Zone and Shanghai Free Trade Zone to recommend high-level foreign staff for permanent residence permits, or Chinese "green cards." This allows foreign talent to enjoy the same rights as Chinese citizens in areas such as investment, housing purchases and schooling.
Shanghai saw six times more permanent residency applications from foreigners and their families in 2016 than in 2015.
China vowed in September 2016 to implement a new policy on work permits for foreigners, which would simplify the approval process to encourage more high-level talent to the country. Shanghai is among the nine municipalities and regions where the policy was first piloted, the Xinhua News Agency reported.
On the annual list, Beijing came second and Hangzhou, capital city of East China's Zhejiang Province, was third. Qingdao, Tianjin, Shenzhen, Suzhou, Guangzhou, Nanjing and Changchun round out the top 10.
Big cities are more attractive to foreigners because of convenient living conditions and better tolerance for different cultures, Sheng said, adding that environmental protection and economic development are major factors that affect their choice about where to live.
The list started in 2010. It is the only list in China that is totally voted for by foreigners based on 22 standards including living environment, education, and medical care.
Among more than 24,500 foreigners who participated in the poll between November 2016 and January 2017, including 30 Nobel Prize winners, 52.7 percent said they came to China because they were attracted by the job opportunities while 45.4 percent said they have expectations for the bright future of China's economic development, according to news site 21jingji.com.