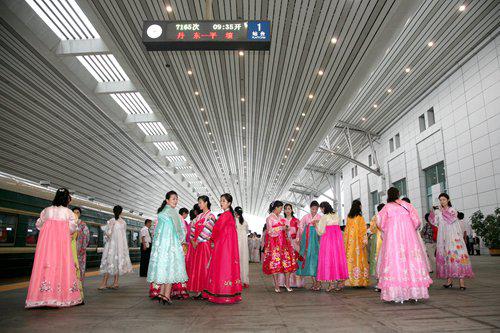 A group of North Korean actresses wait before boarding train bound for their home country at the Dandong Railway Station. File photo: IC
Several domestic online travel agencies including Ctrip, Lvmama.com and LY.com have stopped offering trips to North Korea amid rising tensions over the Korean Peninsula.
LY.com, one of China's leading online agencies, used to sell tour packages from China's major cities to Pyongyang, the North Korean capital. But the company has halted sales because of safety concerns in North Korea, an employee of LY.com told the Global Times on Sunday on condition of anonymity.
On Sunday morning, a North Korean missile launch failed, US and South Korean defense officials were quoted by the CNN network as saying, marking the second missile test this month.
The tensions over North Korea have spiked to alarming levels. The US Navy reportedly dispatched a strike group led by aircraft carrier USS Carl Vinson to the region on April 9.
Given these conditions, Chinese consumers are cooling on North Korea.
Shi Enbo, a professional traveler based in Harbin, capital of Northeast China's Heilongjiang Province, picked up on that trend when he took a five-day group tour to Pyongyang from the Chinese border city of Dandong, Northeast China's Liaoning Province in March. "Such a group tour could attract dozens of Chinese consumers easily last year. But my group tour in March this year only had six people," Shi told the Global Times Sunday.
He stayed at the Sosan Hotel in Pyongyang. "This 30-story hotel used to be crowded with Chinese tourists and merchants, but this time I only saw a few," said Shi.
A 30-year-old Beijing resident surnamed Shang had been planning to go to North Korea. "But now, I don't think it's the right time. There are too many uncertainties about the region," Shang told the Global Times Sunday.
Due to poor demand, Air China, China's national airline, announced on Friday that it has canceled some flights to Pyongyang.
There is no official public data reflecting current tourism activity between China and North Korea. The Xinhua News Agency reported last year that the number of Chinese tourists from Dandong to North Korea reached about 10,000 a day during peak times.
North Korea is not among the best-selling destinations for Chinese tourists, so Lvmama.com recently decided not to offer any travel products relating to the region, a member of the company's PR department told the Global Times on Sunday.
Tourists won't find anything on the website of Ctrip, China's largest online travel agency, either. When contacted by the Global Times over the weekend, a Ctrip PR representative said they could not respond to interview requests outside business hours.
Meanwhile, some online travel agencies such as Tuniu.com and travel agents based in Dandong are still offering tours to North Korea.
Wei Changren, general manager of Beijing-based Jinlü Consulting, predicted that in the short run, the number of Chinese tourists to North Korea will decline, as North Korea's relationships with China and the rest of the world are full of uncertainties.
Huang Songping, a spokesman with the General Administration of Customs, told a press conference on Thursday that the customs agency had strictly complied with UN sanctions and stopped clearing coal imports from North Korea. China's coal imports from North Korea plunged 51.6 percent year-on-year in the first quarter, official customs data showed.
"As fewer and fewer Chinese people visit North Korea, the region's tourism industry will be greatly affected," Wei told the Global Times Sunday, adding that the majority of tourists in North Korea are from China.