Chinese travel companies attract Thai consumers with ice-snow tourism
2018-02-13 02:29:03 GMT
2018-02-13 10:29:03(Beijing Time)
Sina English
This year's Thai International Travel Fair has come to a close in Bangkok.
Chinese travel companies and tourism administrations have focused on promoting snow-related tourism in Bangkok.
This included putting on traditional Chinese art performances in the exhibition hall.
Zhang Xinhong is director of the China National Tourism Administration's Bangkok office.
She says that by promoting the idea of winter tourism, customers living in the tropical country might become interested in the chill of north China.
"Our exhibition attracted a lot of visitors. Many local residents showed an interest in our promotion and came to fetch tourist brochures. We have given out nearly 10 thousand handouts. Many also came to take photos at our booths. The reason behind the promotion is to highlight the difference in climate between Thailand and China. Many Thai people know about Sichuan, Yunnan, Beijing and Shanghai, yet few of them are familiar with places in the northeast of China."
Last year, over 700 thousand Thai tourists traveled to China.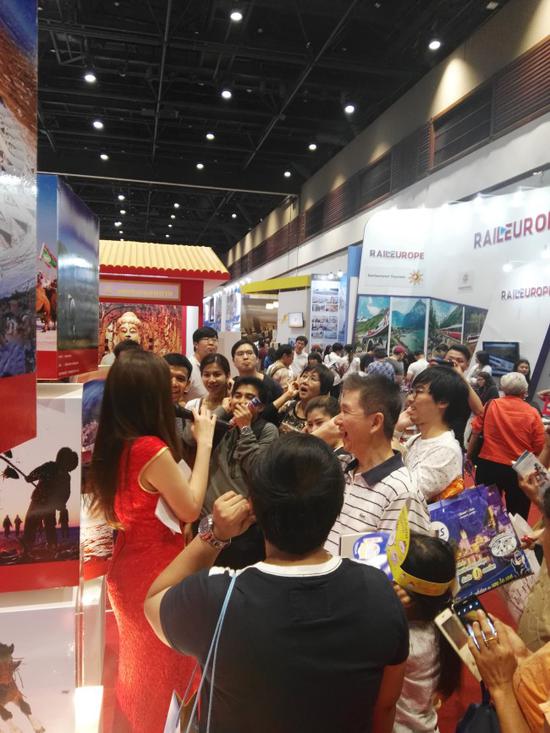 Wang Tiankuo is a Thai student at Chulalongkorn University who spent time studying at Beijing Normal University.
He says he only managed to make it a few places in China during his time in Beijing.
"When I was in China, I only traveled to a few places. Each province has its own unique tourists sites. I want to go to Jinlin province where the weather is cold. The temperatures in Thailand are too high, people could enjoy the cool weather there in north China. Besides I heard that the natural landscapes are amazing there. I want to take a tour one day."
Chen Yaoyuan, Chair of the Thai Outbound Tourism Association, notes China is the second largest market for Thailand's outbound tourist.
He says they expect the number of Thai tourists traveling to China will keep growing.
"Thai people are more interested to go overseas, because the costs of going overseas is lower. When there are more flights, more Thai people will go to China. Because of more competition, the flight costs are low right now. Actually, you see China and Thailand have a close relationship. China and Thailand are not so far away from each other. The Chinese government and tourism organizations spend a lot of effort to promote travel to one-another. So I'm sure there will be more Thai people travelling to China."
The now-concluded travel expo hosted by Thai Outbound Tourism Association is one of the largest of its kind in Southeast Asia.
The Chinese tourism delegation to the fair included representatives from a number of northern Chinese locations, including Tianjin, Inner Mongolia and Liaoning.(Agencies)