Prince William and Kate enjoy day out with kids
2017-11-09 02:04:32 GMT
2017-11-09 10:04:32(Beijing Time)
Sina English
The Duke and Duchess of Cambridge have been enjoying some quality time together ahead of the arrival of their third child. On Sunday, the British royals and their children, Prince George and Princess Charlotte, paid a secret visit to Chester railway station where they are believed to have boarded a train back to London.
They were pictured next to their Range Rover before heading directly to the platform without going through the main entrance. According to The Chester Chronicle, Prince William and Kate were accompanied by royal protection officers. It was reported that they missed their original train at 2.33pm so had to get on an "empty" train to Crewe a few minutes later.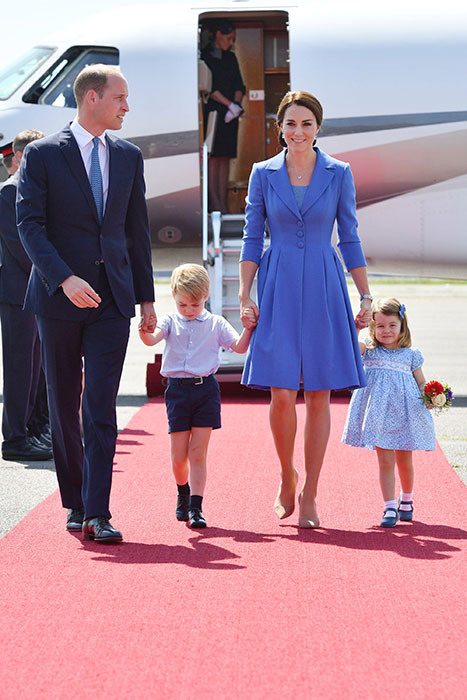 Although it is not known why the family-of-four were in the area, there was some social media speculation that they were at Eaton Hall where the Duke and Duchess of Westminster hosted their annual bonfire and fireworks display on Saturday evening. Stephen Foote, a solicitor with Allington Hughes Law, told the publication that he accidentally stumbled across the royals at the station. "There was one plain clothes officer who asked me to walk a different route to get to my car parked in City Place," he said. "No outriders. Looked like two Range Rovers. Think the children were with them. William looked very ordinarily dressed with a green sweater and Nike trainers."
The outing to the railway station would have been a bit of a treat for Prince George, four, who is known for his love of transport. Last year, his father revealed that George would have "loved" to be in the driving seat of a train during a visit at the Bombardier factory which has been making trains for the new Crossrail service. When William was asked if he wanted to test his driving skills, he drove at 30 miles per hour on the test track, saying: "George would love it." Chris Brittan, a dynamic test track driver at the site, showed the future King the ropes. "I was telling him the functionalities of the train," said Chris. "He was saying that George would love it, he would be excited about seeing his dad driving."(Agencies)