Matt Lauer and wife Annette Roque 'lived separately' before sexual misconduct scandal
2017-12-05 02:20:57 GMT
2017-12-05 10:20:57(Beijing Time)
Sina English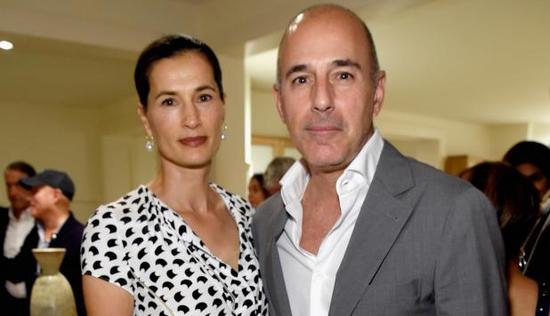 Matt Lauer and wife Annette Roque were spending time apart even before the former Today show host was fired for "inappropriate sexual behavior" last Wednesday.
"Matt and Annette lived separately, with Matt spending many nights in his Manhattan apartment," the source says.
According to the source, the two have a home in the Hamptons, and it is believed that Lauer has been been living there since his shocking firing.
ET has reached out to Roque's rep for comment.
Lauer was snapped on Monday morning in New York, still wearing his wedding ring.
Meanwhile, a source at NBC says staff members are still shocked at Lauer's firing. A lot of the staff knew that Lauer had "a wandering eye," the source claims, but "no one ever thought he was a predator."
Lauer and Roque have been married since 1998 and share three children together. The two were last seen publicly with each other in September, smiling during a lunch date in NYC.
Still, their 19-year marriage hasn't been without issues, including tabloid rumors of Lauer allegedly engaging in extramarital affairs, which he has denied. Roque also reportedly filed for divorce against her husband in September 2006, before eventually withdrawing the documents and reconciling, according to The New York Daily News. According to paperwork first obtained by the National Enquirer, in the filing, Roque accused Lauer of "cruel and inhumane acts," reportedly also claiming that Lauer was controlling about "even the smallest decisions," and alleging that he showed "extreme anger and hostility" towards her.
Meanwhile, Lauer's ex-wife, Nancy Alspaugh, who was married to Lauer from 1981 to 1988, only had good things to say about the embattled newsman when ET spoke with her last week.
"I never saw him as a power monger or somebody who would abuse his position in any way," Alspaugh said. "That's why it's so shocking, I think, for the people that really know him and really love him and they want to get the good stuff out."
"I want to get out the fact that he made a contribution to my nonprofit, that he helped me when my husband died," she added. "The selfless, giving part of him, which people tend to forget whenever this kind of a situation comes up. He would give you the shirt off his back if you really needed it. He did that for everybody. From the lowest person on set to, you know, the highest powers."
On Thursday, Lauer broke his silence on the scandal one day after being fired.
"There are no words to express my sorrow and regret for the pain I have caused others by words and actions. To the people I have hurt, I am truly sorry," Lauer said in a statement. "As I am writing this I realize the depth of the damage and disappointment I have left behind at home and at NBC. Some of what is being said about me is untrue or mischaracterized, but there is enough truth in these stories to make me feel embarrassed and ashamed," he continued. "I regret that my shame is now shared by the people I cherish dearly. Repairing the damage will take a lot of time and soul searching and I'm committed to beginning that effort. It is now my full-time job."(Agencies)