Rose McGowan's ex-manager commits suicide, family blames Harvey Weinstein
2018-02-09 02:54:05 GMT
2018-02-09 10:54:05(Beijing Time)
Sina English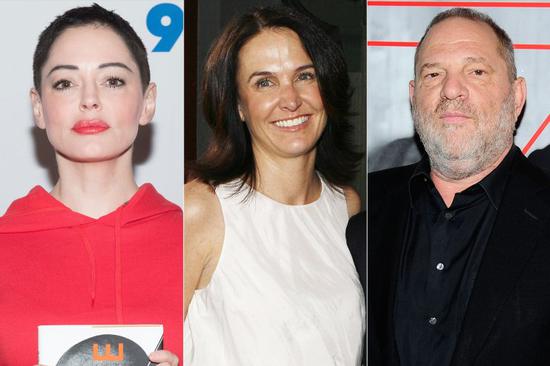 Jill Messick, Rose McGowan's former manager, died by suicide in Los Angeles on Wednesday. She was 50.
Messick was diagnosed with bipolar disorder and had been battling depression in the years before her death, her family told The Hollywood Reporter. In an emotional statement, Messick's family criticized McGowan and Harvey Weinstein for involving Messick in the controversy over McGowan's allegations that Weinstein sexually assaulted her in 1997.
Messick's family says she was devastated after the movie mogul's lawyer released an email in which Messick defended Weinstein.
"Jill was victimized by our new culture of unlimited information sharing and a willingness to accept statement as fact," read the statement to THR. "The speed of disseminating information has carried mistruths about Jill as a person, which she was unable and unwilling to challenge. She became collateral damage in an already horrific story."
Messick's family claims McGowan made "inaccurate accusations and insinuations" against her, but Messick chose not to speak out so as not to take attention away from victims of sexual harassment and assault.
"She opted not to add to the feeding frenzy, allowing her name and her reputation to be sullied despite having done nothing wrong," read the statement. "She never chose to be a public figure; that choice was taken away from her."
The family maintains McGowan confided in Messick after meeting with Weinstein at the Sundance Film Festival in 1997 — a meeting where McGowan alleges Weinstein assaulted her in a hot tub — and the manager immediately reported the incident to her bosses.
"Rose never once used the word rape in that conversation. Despite this, Jill recognized that Harvey had done something untoward to Rose, if not illegal. She immediately went to her bosses, the partners of Addis Wechsler, to recount Rose's story and to insist that they immediately address the situation. They told Jill that they would handle the situation."
When McGowan first opened up about her alleged experience with Weinstein to The New York Times in October, she said that she informed Messick about the alleged attack the day after.
"She held me," McGowan told the paper. "She put her arms around me."
But McGowan said that in the months to come, she did not feel supported by her management team. She said that she was referred to a lawyer who specialized in harassment and assault cases and was given the impression that "filing a criminal charge was hopeless."
Weinstein's lawyer Ben Brafman responded to McGowan's allegations in a statement to PEOPLE.
"Mr. Weinstein denies Rose McGowan's allegations of non-consensual sexual contact and it is erroneous and irresponsible to conflate claims of inappropriate behavior and consensual sexual contact later regretted, with an untrue claim of rape." His spokesperson also said that McGowan "chose to demand money" from Weinstein and worked and appeared with him later in her career."
In October, the New York Times reported that McGowan was part of a settlement with Weinstein in 1997 following the alleged encounter. Messick's family says the deal was negotiated without the manager's knowledge.
"At that time, all Jill knew was that the matter was settled and that Rose continued making films with the Weinsteins. She never knew any details until recently, when Rose elected to make them public."(Agencies)