Yao Ming graduates from Shanghai Jiao Tong University
2018-07-09 01:59:43 GMT
2018-07-09 09:59:43(Beijing Time)
Sina English
Former Chinese basketball player and Naismith Memorial Basketball Hall of Famer Yao Ming graduated from China's Shanghai Jiao Tong University on Sunday. He took photos with his family and delivered a speech to other graduates on campus.
"At a certain stage in the future, you should try to combine your future with the future of the society, because that's how you can find larger space for yourself to explore," said Yao.
"Let me quote a famous conversation that happened on a basketball court 11 years ago, 'This is going to be your league in a little while.' Trust me, when a man spends seven years in university to graduate at age 38, he knows what he's talking about," he added.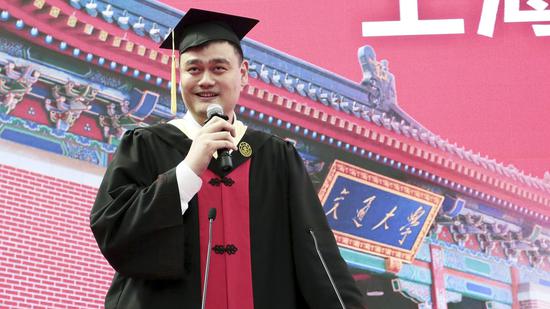 Yao enrolled as an economics student in the university's Antai College of Economics and Management in 2011. Besides studying, he also participated in many events on campus. He worked as a representative for the university's 46th sports meeting. He also conveyed his well-wishes at the 120th anniversary of the university.
As someone with a full-time job, Yao had less time to dedicate to his studies than his fellow students, which made it more difficult for him to complete his degree. He mentioned that there were several times when he came so close dropping out, especially when he was taking courses in higher mathematics.
Yao also expressed his gratefulness to his parents, who made him promise before he joined the CBA at the age of 17 that he would return to school. Contrary to popular belief, many NBA players also returned to school to complete their degrees after going pro.
Michael Jordan was drafted in 1984, but returned to the University of North Carolina to finish his bachelor's degree in geography in 1986. Vince Carter, also a Tar Heel, entered the NBA in 1998. He later finished his degree and even returned to campus for the graduation ceremony hours before Game 7 of the 2001 Eastern Conference semi-finals. Shaquille O'Neal got his bachelor's degree in arts in 2000 from Louisiana State University, eight years after he left campus for the NBA. What's more, Shaq even received a doctoral degree in education from Barry University in 2012, one year after he retired from the NBA.
Source: CGTN