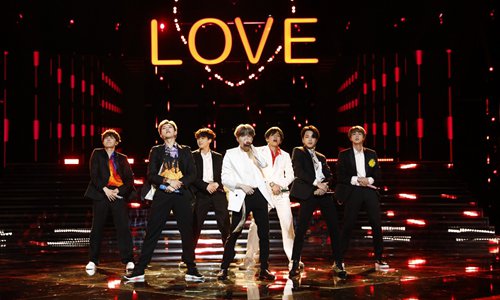 BTS performs on The Voice in New York on Tuesday. Photo: IC
According to a May 13 report by the Asia News Network, due improved diplomatic relations between China and South Korea, the K-pop industry and other related industries have recovered to levels before 2016, which means that China is one of the biggest markets for K-pop. However, many popular K-pop bands are still expanding their influence not only in China but also in other Asian countries as well as the rest of the world.

Unbelievable popularity

Guo Yanan, a fan of K-pop boy group BTS, recently purchased BTS latest album Map of the Soul: Persona, which was released in April.
"They are really, really, really, really popular right now. I'm so happy for them," Guo told the Global Times.
The album's music chart achievements have only strengthened their fans' admiration. Map of the Soul: Persona sold more than 2 million units within a week of its debut on April 12 and later topped the Billboard 200 for April 27 to May 3.
According to a report from South Korea's Yohap News Agency, BTS has changed the course of history for South Korean pop music.
BTS's success is unlike that of any other K-pop group. They are not only active within South Korea and other Asian countries, they have also established a considerable fan base in the West.
Their 2019 world tour Love Yourself: Speak Yourself kicked off at Los Angeles on May 4 and 5 and will go to Sao Paulo, London, Paris, Osaka and Shizuoka.
Guo said she feels that BTS has caught on worldwide because of their excellent performances, with involve complicated dance routines in addition to singing, and their willingness to speak up for people in need.
"Their dancing has been recognized as the most complex among the K-pop groups by the Korean Broadcasting System," Guo explained.
"They often practice singing while on a treadmill and have promised they will never lip-synch during a concert."
Road to success
"Each K-pop group has its unique attraction and their agencies do very well in using this to promote them and gain fans from all over the world." said Li Shuangshuang, a recent university graduate who has been a K-pop fan for seven years now.
She said she believes BTS' success comes down to their great music, dancing ability and the overall theme of the group, which is cooperation. However, she noted that not all K-pop groups get by on talent alone. For instance, she feels that BLACKPINK has also gotten a boost due to the huge fame of its agency YG Entertainment.
BTS and BLACKPINK members' ability to communicate in English also sets them apart from other groups, which has helped them more easily break into the international pop music arena.
"Their songs also have titles in English, which makes it easier for native English speakers to search for these songs on the internet," Li pointed out.
What's more, some reality shows starring K-pop groups have also helped promote the genre.
"Such as Wanna One, a group formed by survival competition reality show Produce 101 in 2017, they are just a little behind BTS," Li said, explaining that these shows turn the formation of a band into a drama, which helps bring in a large number of fans who feel connected to individual members before a band even debuts.
In China, girls group Rocket Girls was formed on Tencent's Produce 101, which was authorized by South Korean music channel Mnet. Rocket Girls follows the K-pop model and has earned a lot of fans in China and abroad.
On April 8, Rocket Girls went to the Toyota Center to perform the halftime show for the NBA's Houston Rockets.
Fan economics
On Monday, a Chinese fan club of BTS member V announced on Sina Weibo that the club had purchased 162,400 copies of Map of the Soul: Persona, claiming that this was the largest mass purchase of albums ever by a single fan club in China.
"Fan economics" cannot be ignored when talking about the K-pop industry, especially when it comes to China.
Since most K-pop albums are not officially sold in China, fans must turn to other means to purchase them. As such, it is very common for fan groups to mass purchase albums from South Korea on behalf of members. This is also a great way for Chinese fans to show support for their idols.
"They just want their idols gain more popularity," Li said.
This support, of course, is great for the profit margins of South Korean entertainment agencies.
In some cases it is also lucrative for some rather entrepreneurial people in China.
According to Li, some people even turn their love for their idol into a money-making opportunity by selling fan-made merchandise such as banners, key rings and dolls.
Some even head to the airport whenever a famous idol is supposed to be arriving. Standing outside the arrivals exit, they take pictures of the idol, which then can sell to other fans.
"Some of them make thick photo albums and even hold exhibitions," Li said.
However, Guo said that this work can be very tiring.
They often stand there for several hours without a break.
Her Private Life is a recent South Korean drama series that focuses on these types of fans.
"They must be a super fan of their idol. It's hard to keep at it if you can't derive happiness from it," Guo said.
(Agencies)