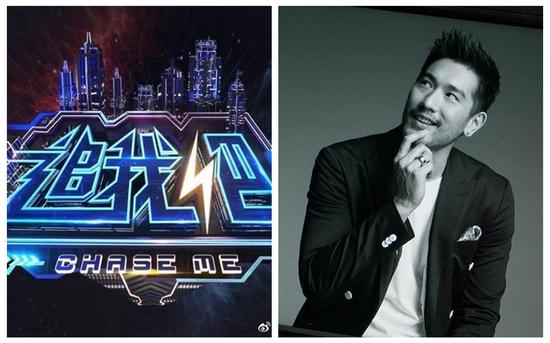 Fans immediately began petitioning for their favorite stars to quit Zhejiang TV's "Chase Me" show immediately after Chinese-Canadian actor Godfrey Gao died shockingly of cardiac arrest during filming on early Wednesday morning.
Remaining stars still participating in the reality TV show include William Chan, Zhang Jike, Fan Chengcheng, Johnny Huang and Song Yuqi. After Gao's unexpected death, their fans took to social media in great numbers to voice their concerns. About 300,000 posts and comments under a hash tag of #Dontrecorditsought to persuade the celebrities to quit have been viewed more than 1.33 billion times thus far.
Gao died at the age of 35 in Ningbo city of eastern China's Zhejiang province, while filming a new episode of "Chase Me" in the wee small hours. He collapsed on the floor at 1:45 a.m. after an exhausting work schedule covering 17 hours, according to sources familiar with the incident.
Gao was last heard saying "I can't make it" when he began to slow down while running. He lapsed into a coma; however, there was no professional doctor immediately on hand, and many crew members initially thought it was a scripted stunt. Gao was taken to a local hospital at 2:30 a.m., but it was too late, the sources said.
However, the show's producers insisted there were paramedics on-site to deal with the situation immediately.
After Gao's management company, JetStar Entertainment, and the producers put out statements respectively on Wednesday morning to express their shock, sadness and disbelief, the show's biggest backer Zhejiang TV released a statement at 10:00 p.m. in response to the incident amid widespread public fury as to why the TV network had remained silent for so long.
Zhejiang TV said Gao's family members had arrived in Ningbo to deal with the situation and the TV network was helping them and wished to fully respect their wishes. It also said all the staff and executives of the TV networks felt huge sadness and were in mourning, "For the serious irretrievable consequence due to the incident, we feel deep regret and are sorry, and we are willing to take related responsibilities."
It added it will deeply reflect and make full checks on all the segments of the filming and will perfect security and safety aspects of the show in the future. "We loved Gao, and we feel so sorry for him forever. May he rest in peace."
"Chase Me" is a reality contest show which puts entertainment stars and professional runners through various challenges, including long and short races, overcoming obstacles, penetrating a maze and even climbing 70meter-high buildings in the late-night set of an urban landscape.
Participants push themselves to the limits of their physical strength and endurance. However, there is no indication that there is a link between the show's requirements and Gao's death at this time.
Yet, former participants have complained of the high intensity of the show. Actress Elaine Zhong said she had been forced to quickly take heart medicine to control her runaway pulse after she filmed the previous episodes. Two Olympic champions, boxer Zou Shiming and gymnast Li Xiaopeng also became exhausted in the second episode. Fan Chengcheng and Bi Wenjun even vomited after their runs were filmed. Meanwhile, other previous accidents involving stars during the filming for Zhejiang TV have also begun to emerge.
Gao's celebrity friends have mourned him, while director-and-actor Xu Zheng scolded the show producers: "I'm so sad. How perfect the man is! Every young man should take care of yourselves when you work! Don't risk your entire life! The show's security and precaution awareness is too bad, they absolutely should take responsibility!"
The actor's death also triggered broad discussion and concern concerning some alleged bad practices that tend to overwork stars and staff in the production of TV shows and films.
"Chase Me" filming is now suspended. The stars are leaving and the TV show is awaiting a decision on its future amid further investigation and clean-up.
Gao was born Tsao Chih-hsiang on Sept. 22, 1984 in Taipei and moved to Canada during his childhood. Since returning to Taiwan to work as a model in 2004, he had appeared in several popular TV dramas and films, including "Remembering Lichuan," ""Love is a Broadway Hit," "Legend of the Ancient Sword" and "Shanghai Fortress." He was also the first Asian male to model for the fashion brand Louis Vuitton. He was not married, but did have a girlfriend from outside the showbiz circle.
There's no word yet on how to deal with Gao's body and arrangements for a funeral and farewell ceremony.
By Zhang Rui
China.org.cn