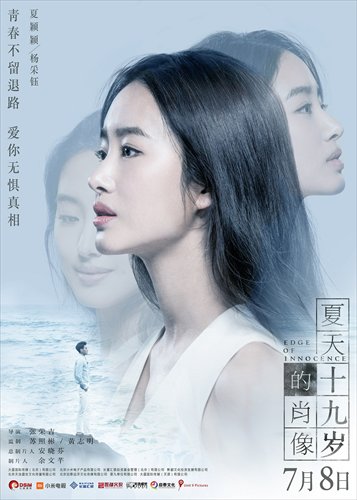 Promotional material for Edge of Innocence Photo: IC
Right alongside animation, detective fiction is another essential feature of pop culture in Japan. The country boasts a long list of well-known detective fiction authors, and so it's natural for film and TV studios to want to adapt their works to the big and small screens.
These adaptations have usually involved big names in the film industry. Both The Bee in the Sky, adapted from Keigo Higashino's novel of the same name, and Grasshopper, adapted from the novel by Kotaro Isaka, have featured all-star casts and crews.
The popularity of these adaptations has become so great, the trend has now spilled over into China as Chinese studios have begun buying up the copyrights to famous Japanese works to adapt to film. Their first target has been long-time bestselling Japanese mystery writer Keigo Higashino. Several adaptations of his novels are currently in production.
Among them is The Devotion of Suspect X, one of Higashino's most critically acclaimed novels which won him numerous awards.
The adaptation rights have been bought by Enlight Median and singer, actor Alec Su from Taiwan is set to direct. The book has previously been adapted into critically acclaimed Japanese and South Korean films.
Additionally, Emperor Motion Pictures and the Wanda Group have acquired the copyrights to The Miracle in the Grocery Store, which is set to hit theaters in 2017, while Chinese director Jia Zhangke's new company has bought the copyrights to Paradox 13.
Probably the first film from this recent trend to reach audiences will be Edge of Innocence, adapted from Soji Shimada's book of the same name. Scheduled for July 8, the film rights were purchased by Desen International Media, the company behind the profitable Tiny Times franchise.
Quick turnaround
Edge of Innocence depicts the story of a young 19-year-old who, after a traffic accident, finds himself in a hospital where he accidentally witnesses the young woman living in the mansion across the way kills her father. He's horrified by what he's seen, yet can't stop from falling in love with her.
The film was directed by Zhang Rongji and stars Huang Zitao and Yang Caiyu.
Yang told the Beijing News that the film will not be targeted at teenagers, but rather will use mystery and conflict to explore the complex situations and choices that young men and women have to handle when dealing with love, friendship and society.
Desen International Media President An Xiaofen, also a producer for the film, told the Beijing News that he is confident that adaptations of Japanese mystery literature are sure to be big hits in China. She pointed to the 1970s and 1980s when, Japanese films such as Manhunt and Akai giwaku were such big hits entire villages would turn out to watch them whenever they were screened.
Although political tensions put a damper on the popularity of Japanese films, today's younger generation are less tied down by history.
Japanese cartoons have always been popular among young Chinese who probably care more about a work itself and so are not as affected by historical burdens. An said that he feels this is also the reason that many IT companies and film companies pay close attention to Japanese culture.
An revealed that it was his studio who reached out to the writer through New Star Press, the novel's Chinese publisher.
"They saw that we have many works, so they happily handed it to us. Many Japanese directors and publishers like us, because we act quite fast. Other domestic companies have bought their works, but then they heard nothing from them. However, we made a film rather quickly."
A fit for China
Critic and screenwriter Hongyu (pen name) pointed out to the Beijing News that due to film standards in China, much of Japanese mystery literature, which often contains violent, supernatural or political themes, is not suitable for film adaptations in the country. However, he does feel there are many bright spots from which Chinese writers can draw lessons.
He listed several films he feels are suited for a Chinese adaptation.
On of the first is Sabaku by Kotaro Isaka. Hongyu pointed that Isaka's work is not famous for his rigorous reasoning, but his ability to depict emotions. Sabaku focuses on five characters' lives in university as they play mahjong, fall in love and also solve crimes.
Another worth adaptation is Reasons by Miyuki Miyabe. Miyabe has remained one of Japan's most loved female writers for more than a decade. While Reasons is not her most famous work, the mix of real estate, family matters and crime is a realistic story with which Chinese audiences can resonate.