Berlin International Film Festival comes to Beijing
2017-02-14 05:42:43 GMT
2017-02-14 13:42:43(Beijing Time)
Global Times
Actor Liao Fan (center) attends the opening of Eyes on Berlin at the French Institute of China on Friday. Photo: Courtesy of Goethe-Institute China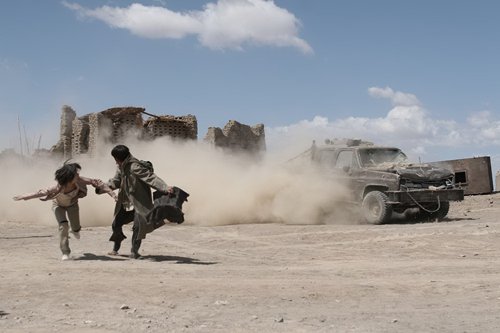 Promotional material for No Man's Land Photo: IC
As the attention of movie lovers is being drawn to the 67th Berlin International Film Festival (BIFF) in Germany's capital, The Goethe-Institute China, French Institute of China and Ullens Center for Contemporary Art (UCCA) have decided to bring a little bit of the festival to Beijing with Eyes on Berlin, a tie-in film showcase for productions from China, Germany and France.
Kicked off on Friday at the French Institute of China with a showing of 2014 Golden Bear award-winning Chinese suspense film Black Coal, Thin Ice, the film showcase will screen a total of 18 films which have previously been shown at BIFF until February 28.
"The Berlin film festival... is still one of the most important film festivals in the world. It's a film festival that always has this critical look at society, politics, what's going on. It focuses on strong and important stories, and through these stories we can open our eyes and we can learn something about the world," Clemens Treter, director of the Goethe-Institute China, said at the opening ceremony on Friday.
"Certainly French cinema has made some important contributions to its success… the Berlin film festival has always been a very good stage for Chinese cinema. There is even a Chinese saying that once a Chinese film goes to the Berlin film festival, it's sure to take one of these Bears home," Treter said, explaining why the showcase includes films from the three countries. Going on to explain that BIFF provides a platform that makes cross-cultural cooperation possible through dialogue, Treter added that Eyes on Berlin also aims to open dialogue between Europe and China.
Reflecting BIFF's political and social orientation, the 18 selected films for Eyes on Berlin focus on issues such as immigration, religious fanaticism, accelerating capitalism and mental health.
"The audience could expect an outlook of two centuries that follow and face one another, from the founding of the People's Republic of China to the fall of the Berlin wall, and witnessing the turning points of a world, which constantly reinvents itself through crises. The program traces the overlaps and clashes between two historical eras at the turn of the century, shedding light on the world's continuous self-reinvention through crises," the official website of UCCA says.
Films taking part in the event include: On My Way (2013, France), Fire at Sea (2016, Italy-France), Apart Together (2010, China), Things to Come (2016, France-Germany), Finsterworld (2013, Germany), Victoria (2015, Germany), Today (2012, France- Senegal), In the Courtyard (2014, France), My Land (2016, China), Coming Out (1989, Germany), I Feel Like Disco (2013, Germany), Crosscurrent (2016, China).
Forum discussions with the actors and directors will be held after some screenings.