Co-production in the spotlight as film festival looks to future
2017-04-21 06:43:09 GMT
2017-04-21 14:43:09(Beijing Time)
Xinhua English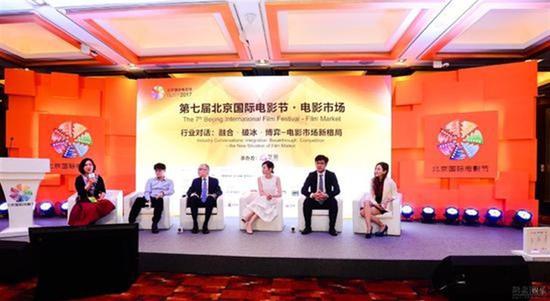 AT the ongoing Beijing Film Festival, filmmakers from around the world have been considering the market potential of joint productions and looking at better ways to cooperate.
Festival sources said that of 700 Chinese films produced in 2016, 73 were co-productions with 14 countries and regions having movie production agreements with China.
However, joint products don't seem to impress the box office. According to Entgroup, a media and entertainment consultancy, most jointly produced movies lose money.
It cites the Sino-French production of "The Warriors Gate" and Zhang Yimou's "The Great Wall," starring Matt Damon.
Bottom of the list was "Rock Dog" which was produced by Huayi Brothers Media Group and Dreamworks at a cost of 410 million yuan (US$60 million), but grossed only 40 million yuan.
Many festivalgoers laid the blame at the joint production system. Critic Han Haoyue said that among joint productions, many were only nominally "joint."
"Some cooperation was merely in terms of funding and operations," he said.
Han said it is culture, rather than investment, that China should offer the world movie industry.
Aamir Khan, the Indian actor and director best known in China for his comedy drama "3 Idiots," believes that so long as a film tells a good story, it goes beyond national and cultural borders.
Rob Cohen, creator of "The Fast and the Furious" series, agrees. He remembers watching Chen Kaige's "Farewell My Concubine" and being introduced to the richness and beauty of Chinese culture. He makes a lot of effort to show foreign culture in his own films.
Chen said Sino-foreign co-productions need both sides to share "the feeling of falling in love."
He is working on Chinese-Japanese co-production "Kukai" due for release by the end of the year.
"If producers from different countries had a feeling of falling in love, they would devote their love and passion to the project," he said, adding his concern that some co-productions just showed a few exotic elements or a single actor as a guest performer to woo the public.
Despite the immaturity of Sino-foreign co-production, the Chinese market is tempting. Chinese cinemas sold 1.4 billion tickets in 2016, more than the total number of US and Canadian moviegoers.
The State Administration of Press, Publication, Radio, Film and Television said China's box office sales in 2016 reached 45.7 billion yuan, up 3.73 percent year on year.