Epic film portrays how People's Liberation Army was founded
2017-06-19 03:24:48 GMT
2017-06-19 11:24:48(Beijing Time)
Shanghai Daily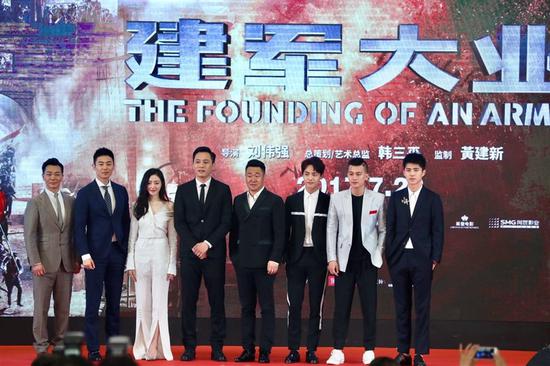 Cast of the epic film The Founding of An Army. -- Dong Jun
A wave of new domestic film productions and upcoming projects covering the genes of action, comedy, epic, suspense and documentary were announced today at the ongoing 20th Shanghai International Film Festival.
Hong Kong director Andrew Lau brought his new historical epic film "The Founding of An Army," to be released nationally on July 28.
Starring mainland actors Liu Ye and Zhu Yawen, the film depicts Nanchang Uprising, a famous event on August 1, 1927. It portrays how the People's Liberation Army of China was founded.
French actor Jean Reno, Taiwan actor Tony Yeung and mainland actress Zhang Jingchu brought their latest offering "The Adventurers." The action comedy film by Stephen Fung will be released on August 11.
The film which tells a story of group of thieves' treasure hunt in a castle released its official trailers. Spectacular car racing and action scenes were shot in Cannes, Prague and Kiev.
Reno said that in the movie he depicts a cop who has a special relationship with the thief.
"It was a fantastic good time to work with director Fung," Reno added. "Fung has a clear idea of what he wants in the movie."
China's sixth-generation film maker Zhang Yang premiered his new road movie "Paths of the Soul." The realistic movie follows four Tibetan Buddhist families' 2,500-kilometer-pilgrimage to mountain Kangrinboqe. It is a story about the power of faith. Popular singer Pu Shu created theme song "No Fear in My Heart" for the film.
"Still Tomorrow," an award-winning documentary film by Fan Jian was also premiered at the Shanghai Film Art Center today. The film produced by Youku portrays the life and love of female village poet Yu Xiuhua who is suffering cerebral palsy.
Last year the film received the Jury Grand Prix at the International Documentary Film Festival Amsterdam. It will start its screening nationwide on July 2.
"We will continue to explore touching real-life news stories which reflect current values and thoughts of people," said Yu Hongmiao, an official with Youku. "A lot more talented documentary film makers in China will be supported to put such impelling stories on the big screen."
Zhujiang Film Group also announced a couple of film projects, which are mainly targeted at young cinema-goers.
Famous Hong Kong action director Yuen Woo-ping will helm an action-packed blockbuster "Old Fellows" which stars Hong Kong actors Francis Ng, Louis Koo and Simon Yam. The film will start its shooting in October.
According to Yuen, the film about brotherhood, humanity and promise will feature a lot of impressive scenes of martial arts and gun fight. It also portrays delicate human emotions and relationships.
Hong Kong talk show star Dayo Wong will collaborate with actress Charmaine Sheh on a comedy film "Stand-up Agent." The movie tells a hilarious story of a private detective.
Mainland actress Huang Yi will also play a single mother in a suspense thriller "Plate Ghost," a story about revenge for love.
Well-known film maker Ning Hao attended the festival with his newly produced martial arts film "Brotherhood of Blades."
Starring Taiwan actor Chang Chen and mainland actress Yang Mi, the film is about an ancient Chinese imperial guard who investigates to uncover the truth of an intrigue. This afternoon the film also opened the festival's Jackie Chan Action Movie Week. It will be released in China on August 11.