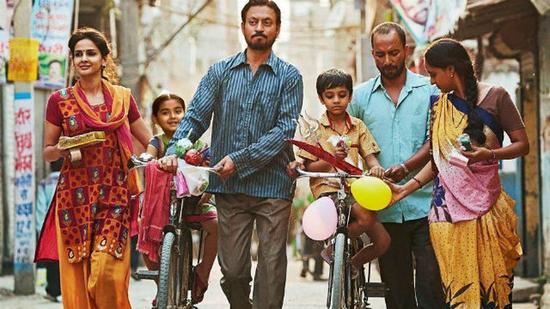 NEW DELHI, May 13 (Xinhua) -- Screening of films in each other's country would lead to a closer bonhomie between India and China as they showcase a country's real culture thereby promoting people-to-people contact and better mutual understanding, said Meiyang Chang, an Indian-Chinese who is a famed film-actor, singer, anchor and entertainer in India.
Chang's family is originally from Wuhan city of Hubei province which last month witnessed the informal meeting between Chinese President Xi Jinping and Indian Prime Minister Narendra Modi.
Chang's great grand-parents fled China on foot during the Japanese invasion, walked through forests and mountains, before finally reaching India's eastern city of Kolkata.
"I've heard stories about how they walked through forests and over mountains to reach India," Chang said, recalling the emotional tales which he heard from his grand-parents, in an exclusive interview with Xinhua.
His father is a dentist and mother a beautician, both settled in India's eastern state of Jharkhand. He himself is a qualified dentist but took to entertainment industry after coaxed by one of his friends to participate in a reality show Indian Idol some years back. And, soon he became a household name in India. Now, he lives in Mumbai, the hub of India's film industry Bollywood.
"I've always heard how a lot of Chinese people love Hindi songs and films, and that it is doing a great business. Films like 3 Idiots and Dangal have done exceedingly well in China, and Kung Fu Yoga did decently in India as well. So, yes, I believe this soft power can bring us closer and as a product of both cultures, I could be in a unique position to showcase that. I'd love for people in China to see my music, movies and TV shows," he said.
Not able to pick up Chinese language as he did most of his school and college education while being away from home, Chang says, "as with any immigrant population, we follow and preserve our Chinese culture and practices, but have also adopted the indigenous ones, including Indian food. We do meet for weddings, prepare for the Chinese new year feast, and also follow the egg-eating custom for the newborns."
Indicating that Chinese films have been quite popular in India, he said actors Bruce Lee and Jackie Chan are well known here, and quite a few people would know of Lucy Liu and Chow Yun Fat. "Take it from someone who has roots in both countries, we have more in common than we know. Our sense of family, marriage, afterlife, movies and the like are uncannily similar," he said.
Expressing his views on the recently-concluded Xi-Modi informal meeting in his hometown Wuhan, Chang said that it sent out a "positive message to the populace of both sides that we can peacefully co-exist as allies".
Chang said he has never been to his hometown Wuhan, but wishes to be there one day. Recalling how he spent time in Hubei province a couple of years back, he said, "In August 2013, I was invited to be part of a musical program for CCTV. I extended my stay in China for a short vacation, passed through the Hubei province. We did not stop at Wuhan but explored quite a lot along the Yangtze river, including the Three Gorges Dam, amongst other things."
"I intend to take a longer vacation some day to explore more of China, in particular, pandas and the Shaolin temple. I'm quite fascinated by Chinese history and have read a few books on it," he said.
In a message to the Chinese, particularly his friends and family in hometown Wuhan, Chang said, " I hope you are well, and I pray we meet more often. I hope you'll come visit India some day and let me take you around. There's so much to see, so much new food to sample, such warm people to meet and experiences to be had. And of course, stories to be shared!"