"Jurassic World: Fallen Kingdom" stays atop for second straight weekend in North America
2018-07-02 01:44:53 GMT
2018-07-02 09:44:53(Beijing Time)
Xinhua English
Universal's "Jurassic World: Fallen Kingdom" stayed atop for the second weekend in a row at the North American box office with an estimated 60 million U.S. dollars.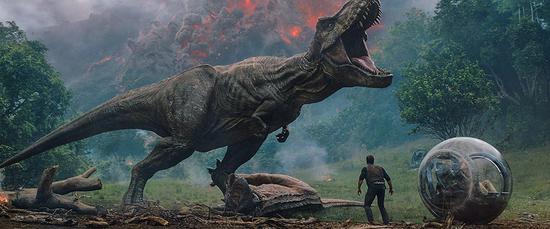 "Jurassic World: Fallen Kingdom" is the fifth installment of the "Jurassic Park" film series, as well as the second installment of a planned "Jurassic World" trilogy. Directed by J. A. Bayona, the film stars Chris Pratt and Bryce Dallas Howard. Set three years after "Jurassic World" theme park was destroyed by dinosaurs out of containment, the plot follows Owen Grady and Claire Dearing's effort to mount a campaign to rescue the remaining dinosaurs when the dormant volcano begins roaring to life on island of Isla Nublar.
The film has brought in 264.78 million dollars in North America through Sunday. It remained the No.1 movie at the international box office for the fourth straight week earning 56.1 million dollars for a massive global cume of 932.4 million dollars to date, according to studio figures collected by comScore.
Disney and Pixar's animated superhero film "Incredibles 2" came in second with an estimated 45.5 million dollars in its third weekend.
The film is the sequel to 2004's "The Incredibles" and follows the Parr family who must find a way to work together again to combat a new villain who hatches a brilliant and dangerous plot. Directed by Brad Bird, the films features the voices of Holly Hunter, Craig T. Nelson, Isabella Rossellini, Jonathan Banks, Catherine Keener, John Ratzenberger.
"Incredibles 2" has earned a total of 439.7 million dollars in North America for a global cume of 646.8 million dollars through Sunday.
Sony's action thriller film "Sicario: Day of the Soldado" opened in third place with an estimated 19.01 million dollars in its debut weekend.
Directed by Stefano Sollima, the film is the sequel to 2015's "Sicario." The plot follows the drug war at the U.S.-Mexico border as the cartels have begun transporting terrorists, forcing the U.S. government to team up with hitman Alejandro Gillick.
Another new comer, Lionsgate's basketball comedy "Uncle Drew" opened in fourth place with an estimated 15.5 million dollars. Warner Bros. and Village Roadshow Pictures' women-led heist comedy film "Ocean's 8" finished fifth in its fourth weekend with an estimated 8.03 million dollars for a North American cume of 114.7 million dollars through Sunday.