'Widows' opens the London Film Festival
2018-10-12 02:07:19 GMT
2018-10-12 10:07:19(Beijing Time)
Sina English
The 2018 London Film Festival opened on Wednesday, with Oscar-winning actress Viola Davis sharing her thoughts on how women are portrayed in her latest movie "Widows."
Davis spoke at the festival's opening gala, where she walked the red carpet with director Steve McQueen. The actress said that it seems women in movies always "eat the hot dog and stay a size zero," but the characters in "Widows" are realistically flawed.
"I like that these women are taking ownership. Like I said you know they're owning their lives. They're owning their work and they're still feeling they're still very feminine. I love that," said Davis.
British director Steve McQueen's whip-smart heist thriller stars Viola Davis, Michelle Rodriguez and Elizabeth Debicki. The women band together after their husbands are killed in a robbery.
McQueen attended the movie with his family, and talked about his long-standing relationship with the festival.
"I remember when we debuted 'Hunger' here. I mean straight after Cannes it was an amazing reception and you know there was a lot of positivity in that cinema," he recalled. "I'm just loving what was happening with women here at this festival... as far as 38 percent of the directors are women... I'm so proud," he continued.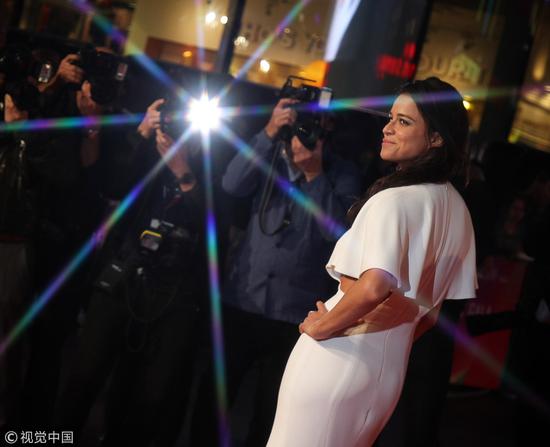 Michelle Rodriguez attends the European Premiere of "Widows" and the opening night gala, October 10, 2018. /VCG Photo
This year's London Film Festival includes David Mackenzie's kilts-and-carnage Scottish epic "Outlaw King," Joel and Ethan Coen's Western anthology film "The Ballad of Buster Scruggs," Alfonso Cuaron's Mexico-set "Roma," and Peter Jackson's World War I documentary "They Shall Not Grow Old."
Organizers say 38 percent of all films and 30 percent of the 225 features in the lineup have female directors, an increase of 24 percent from 2017.
The festival runs through October 21 with the Laurel and Hardy biopic "Stan and Ollie."
Agencies