Cairo Int'l Film Festival to screen Chinese movies
2019-11-05 04:22:14 GMT
2019-11-05 12:22:14(Beijing Time)
Xinhua English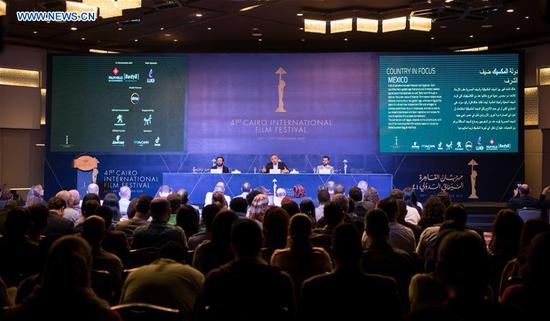 Photo taken on Nov. 4, 2019 shows a press conference of the 41st Cairo International Film Festival (CIFF) in Cairo, Egypt. Chinese movies will be screened on the 41st Cairo International Film Festival which will run from Nov. 20 to 29, the CIFF president announced Monday. (Xinhua/Wu Huiwo)
CAIRO, Nov. 4 (Xinhua) -- Chinese movies will be screened on the 41st Cairo International Film Festival (CIFF) which will run from Nov. 20 to 29, the CIFF president announced Monday.
During the CIFF, 153 films from across the world will be screened, 35 of which will be international and regional premiers at the Cairo Opera House, Mohmed Hafzy said in a press conference.
China took part in the international competition that includes 15 films with "the Fourth Wall" and "Summer of Changsha," while "So Long, My Son" will be part of the Official Selection out of Competition, Hafzy added.
Qin Hailu, a famous Chinese actress, will be a member of the international jury that includes well-known writers and directors from the United States, Belgium, Mexico, Italy and Egypt.
The jury will award seven prizes for the best film, director, screenplay, actor, actress, artistic contribution and the second work of a director.
"The Irishman," directed by Martin Scorsese and starring Robert De Niro, Al Pacino and Joe Pesci, will be displayed in the opening ceremony.