Chinese animator to save live-action 'Three-Body' project
2020-06-30 03:46:47 GMT
2020-06-30 11:46:47(Beijing Time)
Xinhua English
China's top animator Tian Xiaopeng will be the director of the live-action sci-fi epic "The Three-Body Problem," which could save the already shelved project.
In the latest development, Tian's animation studio October Media announced that it will be producing the much-anticipated film based on the best-selling and award-winning sci-fi novel by China's sci-fi mogul Liu Cixin.
Tian created China's 3D animated milestone "Monkey King: Hero is Back" in 2015. It grossed 956 million yuan in China, becoming the highest-grossing Chinese animation in the country's film history at that time. It held the record until 2019 and was broken by Coloroom Pictures' "Ne Zha," a cultural phenomenon with a total gross revenue of more than five billion yuan.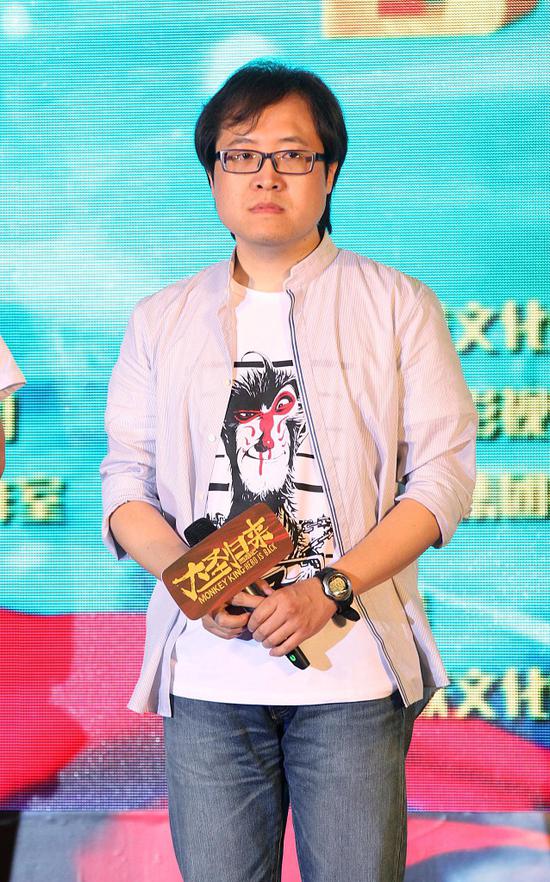 Tian was working on his own sci-fi mystery animated film "Deep Ocean" and "Monkey King 2" before he was appointed to helm "The Three-Body Problem" film project.
Yoozoo Pictures still holds the film rights for the book series, which is officially called "Remembrance of Earth's Past" trilogy. The film studio once had an ambitious plan to spend 1.2 billion yuan ($195.5 million) to make the science fiction trilogy into a series of 6 movies, with each costing 200 million yuan to make.
Zhang Fanfan, a critically panned horror movie creator, was originally chosen to direct the film, but it caused widespread skepticism among the book's fans. He started shooting anyway and finished the first installment starring Zhang Jingchu between 2014 and 2015. His adaptation was scheduled for release in 2016 but was later shelved. Inside sources told China.org.cn the film was a huge mess.
October Media's announcement on June 23 revealed that it will produce the new adaptation with the strong support of Yoozoo Pictures and Beijing Enlight Media.
The company also revealed that Yi Qiao, former founder and CEO of Coloroom Pictures, an animation division of Enlight Media, will be co-founder and president of October Media. Wei Yunyun, the former general producer of Coloroom Pictures, became the chief content officer for October Media. The two will produce the new adaptation of "The Three-Body Problem."
October Media praised Yi and Wei as innovative trailblazers to help the Chinese animation industry to achieve big leaps and great achievements. They will bring a new strategic direction to the company. "Mr. Yi Qiao and Ms. Wei Yunyun joining us results from their mutual appreciation for Tian Xiaopeng, and the three of them have formed close and tacit cooperation. Plus, they made this choice due to their full confidence in October Media's future and creativity. 'The Three-Body Problem' will be the first live-action theatrical release of October Media. We will face the brand-new challenge and accomplish the mission!"
China's moviegoers and book fans of "The Three-Body Problem" had mixed reactions after hearing the news of Tian's involvement. Some expressed doubt about a studio that specializes in animation making a live-action movie. Others also argued that the universe portrayed in the novel is too epic and too big for any Chinese filmmakers to portray on big screens. Plus, China's visual and special effects industry isn't developed enough to handle the project. But some seemed optimistic about the new adaption, noting the impressive track record of Tian's previous works.
"The Three-Body Problem" book series, is about how human beings respond to alien invasions. It was published in China between 2006 and 2010 and sold more than one million copies. The first book in the trilogy was awarded the Chinese Science Fiction Galaxy Award in 2006. In 2014, an English translation of the first book, titled "The Three-Body Problem," by Chinese-American author Ken Liu was published. A year later, Liu Cixin became the first Asian author to win the Hugo Award, the highest honor bestowed in science fiction and fantasy writing. The book was even recommended by former U.S. President Barack Obama.
The highly anticipated "The Three-Body Problem" film project was once anticipated by many to break open a new era for Chinese sci-fi blockbusters but failed to do so due to the first adaptation mess. Instead, during Spring Festival in 2019, Frant Gwo's "The Wandering Earth," also based on a novella by Liu Cixin, did it, and it has made 4.65 billion yuan at the box office domestically, which ignited huge public interest in this particular genre.
Besides the film project, "The Three-Body Problem" also developed various art and entertainment forms from stage dramas, radio shows, video games, and exhibitions to an animated adaptation project by the Chinese online video streaming platform Bilibili.
Source: China.org.cn