Pussy Riot declare new revolution from the stage
2017-03-20 03:54:31 GMT
2017-03-20 11:54:31(Beijing Time)
Agencies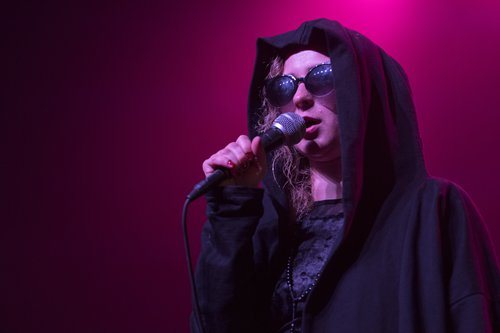 Maria Alyokhina of Pussy Riot performs Revolution in Los Angeles on Sunday. Photo: IC
Still relishing provocation three years after their release from a Russian prison, the punk rockers Pussy Riot are reviving their challenge to President Vladimir Putin in an action-packed autobiographical theatrical piece.
Maria Alyokhina, one of two key members of the group who went to prison, has taken Pussy Riot in a new avant-garde direction in an hour-long performance called Revolution that merges punk, electronica, theater, documentary footage and plenty of snide references to Putin.
Characterized by Alyokhina as a "living book," the piece is based on a memoir she will publish later this year. It kicks off with an allusion to Russia's Bolshevik takeover 100 years ago and a rhetorical question about whether her piece is about that revolution.
"No, the one that's happening now!" Alyokhina shouts in unison with actor Kiryl
Kanstantsinau before em
barking on an frenetic account of the feminist collective since its founding in 2011.
Alyokhina and fellow member Nadezhda Tolokonnikova were charged with hooliganism after they sneaked into a cathedral near the Kremlin and - for less than a minute - performed a "punk prayer" against Putin.
If Pussy Riot was about shock tactics, Alyokhina in Revolution explains the intellectual underpinnings. Putin, the piece charges, had been
transforming himself into an emperor through fraudulent elections.
The Russian Orthodox Church, she charges, had become "servants of the tsar" with little to do besides selling "elite porcelain eggs and replicas of imperial-era medals."
Pussy Riot casts itself a part of the history of revolution. Screen images shift from Eugene Delacroix's painting Liberty Leading the People, the goddess triumphantly raising the French tricolor, to footage of Pussy Riot rising in Red Square to sing "Putin Has Pissed His Pants."
Alyokhina, 28, relives her detention in a penal colony in the Ural Mountains, where she recounts being disciplined for waking up at 5:45 am instead of 5:20 am and going on a hunger strike to protest her conditions.
She ends the piece with a warning that freedom does not exist on its own - "Fight for it every day!"