After break, Katy Perry announces new album and tour
2017-05-17 07:37:30 GMT
2017-05-17 15:37:30(Beijing Time)
Agencies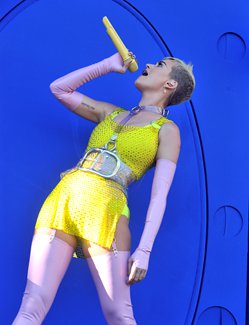 Katy Perry Photo: IC
Pop superstar Katy Perry on Monday announced a new album and tour, promising a more mature and reflective side after taking time off.
The 32-year-old singer said that Witness, her first album since 2013's mega-hit Prism, would come out on June 9.
She also announced an extensive tour, for now just of North America, to begin on September 7 in Columbus, Ohio.
Perry, who will close the North American tour on February 5, 2018 in Vancouver, Canada, separately will perform next month at the Glastonbury festival in England.
The singer announced the album news on Twitter where she has more followers than anyone else at more than 98 million.
Perry has already released two tracks from Witness. The first, "Chained to the Rhythm," has echoes of the disco era along with a reggae off-beat and an appearance by Bob Marley's grandson Skip Marley.
Perry's follow-up track, "Bon Appetit," also has a dance feel but heads in a trap direction with a collaboration by Atlanta hip-hop trio Migos.
"Bon Appetit" was also startling for its open sexuality, Perry and Migos singing about reaching orgasm. Perry, a favorite among young girls, rose to fame with songs of first-time experiences such as "Teenage Dream" and "I Kissed a Girl."
In an interview published last week, Perry said the album reflected her life in her 30s after closing out her 20s.
"I've embraced. I've surrendered. I've healed some of my issues with my family, with my relationships," she told Entertainment Weekly.