James Blunt crowdsurfs in dinghy at Radio 2's Hyde Park show
2017-09-12 02:32:55 GMT
2017-09-12 10:32:55(Beijing Time)
Agencies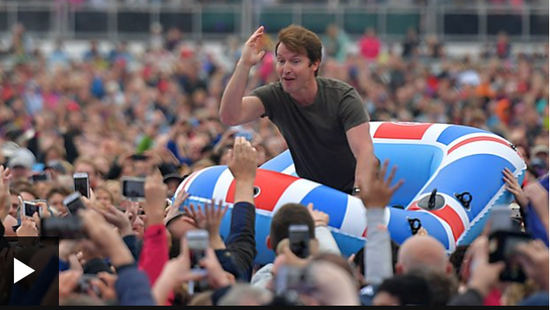 JAMES BLUNT set sail over the audience at Radio 2's Hyde Park festival Sunday — perched precariously inside a rubber dinghy.
The star's unusual take on crowdsurfing came at the end of a mid-afternoon set, which featured the hits "You're Beautiful," "Bonfire Heart" and "1973."
But he came to a sticky end when the Union Jack dinghy capsized about 30 rows back from the stage.
"Can we have him back, please?" compere Ken Bruce asked the crowd.
Blunt later emerged unscathed, after posing for selfies with (some of) the 35,000-strong audience.
Radio 2's rain-soaked "festival in a day" also saw performances from Stereophonics, Rick Astley, Emeli Sande and Blondie.
And country star Shania Twain gave her first U.K. performance in 13 years, receiving a rapturous reception from fans who'd been waiting for her comeback.
The singer has been out of action for several years after developing dysphonia, an ailment where the muscles squeeze the voice box.
But, rising through a trap door in the stage in Hyde Park, she sounded reinvigorated.
As she played her signature ballad, "Still the One," the audience linked arms and swayed along to the song.