Childish Gambino wins Record of the Year at 61st annual Grammys
2019-02-11 06:43:03 GMT
2019-02-11 14:43:03(Beijing Time)
Xinhua English
LOS ANGELES, Feb. 10 (Xinhua) -- American singer Childish Gambino's "This is America" won Record of the Year at the 61st annual Grammys, held at the Staples Center complex in the western U.S. city of Los Angeles on Sunday.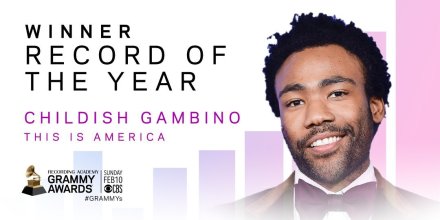 Gambino also won the Song of the Year for "This Is America" earlier in the day, being one of the big winners of this year's Grammy awards.
Gambino, also known as Donald Glover, released the song and video for "This Is America" in May 2018. The song addresses the issues of gun violence as well as racism and discrimination against African Americans in the country. It debuted at number-one on the U.S. Billboard Hot 100, the music industry standard record chart for songs, published weekly by Billboard magazine.
The annual Grammys is presented by the Recording Academy to recognize achievements in the U.S. music industry.
Spring Festival travel brings 513.9 bln yuan to China's tourism revenue
Feature: Grand Chinese New Year celebration held in London
People across China have fun during week-long Lunar New Year holiday
Citywide celebrations of Chinese Lunar New Year continue in Chicago
People across China have fun during week-long Lunar New Year holiday
Flowers blossom during Spring Festival holiday across China
Snow scenery of tourism resorts across China
People enjoy beautiful landscape around China during week-long Spring Festival holiday