Victoria's Secret show tumbles to lowest ratings
2018-12-06 03:33:06 GMT
2018-12-06 11:33:06(Beijing Time)
Sina English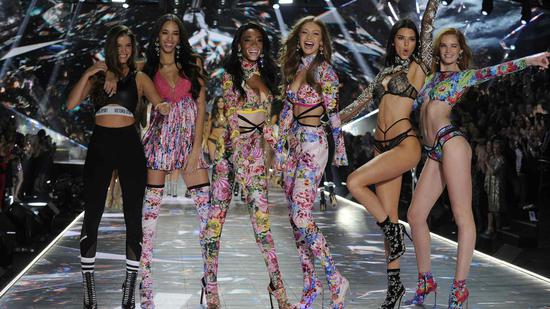 Aired on Sunday on ABC after several years of broadcast on CBS, Victoria's Secret fashion show sees the smallest audience of 3.27 million viewers since becoming a holiday-season TV event in 2001, the Nielsen company said.
The show has lost more than half of its television audience in two years.
According to Nielsen's data, the show's viewership ranged from a high of 10.3 million in 2011 to 7.36 million in 2016, after it was migrated to CBS. Last year, however, the viewership tumbled to 5.37 million, leading to its departure to ABC.
A review of Sunday's show in The Washington Post was headlined, "The Victoria's Secret fashion show is too boring to even argue about."
Models walk the runway during the 2018 Victoria's Secret Fashion Show at Pier 94 in New York City, November 8, 2018. /VCG Photo
"The whole hour-long shindig was a bore," wrote fashion critic Robin Givhan. "A snooze. A shrug. Oh, my Lord, it was dull."
Givhan wrote that the TV special "was such a nonevent of excruciating cliches and non-sexiness that it's not worth a cultural revolution. It's a teardown. Or we could all just get out of the way and let it rot until it falls down on its own."
There's no immediate word from ABC about whether it will return. Even with its sinking ratings, the show got about twice as many viewers as Alec Baldwin's Sunday-night talk show, which aired in the same time slot until it was recently moved to Saturday nights.
The runway-style show of models in underwear has seemed ill-suited to the #MeToo era and was hurt when the company's head of marketing said in an interview that it would not include transgender or plus-sized models because Victoria's Secret was selling a fantasy. The company later apologized.
In 2017, Victoria's Secret fashion show made its Chinese debut, aiming at expansion in the Chinese market. The hashtag "Victoria's Secret rating" emerged on the Chinese social media Sina Weibo's search list on Wednesday as well. However, most Chinese fans also voiced their disappointment, despite the fact that four Chinese models were attending the show this year.
"It seems most people have been casting a nostalgic look at the past years after every Victoria's Secret show nowadays. Everyone is missing the gold old days. If the show fails to come up with some innovations or at least changes, there would be even lower ratings," reads a Weibo comment.
"I really miss 'the era of the goddesses' back in 2005 and 2006. Does the Victoria's Secret lower their barrier for models' entry?" another Weibo comment questioned, and it was echoed by many.
Besides the models, many Chinese fans also complained about the designing.
"I think the main reason is that the underwear designs are really ugly, while at the same time the wings are becoming unbearably colorful and complicated. They should really pay some attention to the designing," said another Weibo user.
Compared to the record number of seven Chinese models, this year only four made their returns and all are veteran angels for the show, including Liu Wen, He Sui, Ming Xi and French-Chinese model Estelle Chen.
Agencies