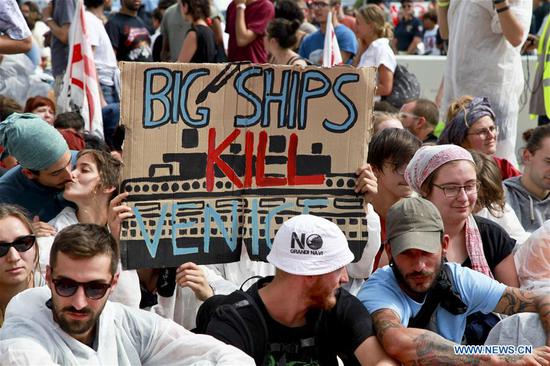 People take part in a sit-in for environment protection in Venice, Italy, on Sept. 7, 2019. Peacefully stealing the central stage for some hours on Saturday, various civic groups launched a cry for environment protection on the last and crucial day of Venice Film Festival. (Xinhua/Liu Yongqiu)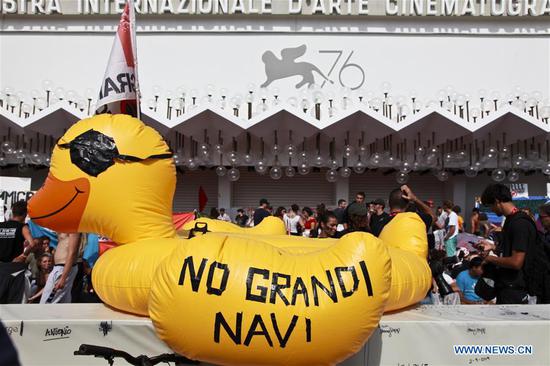 People take part in a sit-in for environment protection in Venice, Italy, on Sept. 7, 2019. Peacefully stealing the central stage for some hours on Saturday, various civic groups launched a cry for environment protection on the last and crucial day of Venice Film Festival. (Xinhua/Liu Yongqiu)
VENICE, Italy, Sept. 7 (Xinhua) -- Peacefully stealing the central stage for some hours on Saturday, various civic groups launched a cry for environment protection in the last and crucial day of Venice Film Festival.
Since early morning, activists from the "Friday for Future" Italian committee -- inspired at global level by Swedish teen Greta Thunberg -- alternated and mingled with those from the Venetian group fighting against the passage of huge tourist ships along the canals of the fragile lagoon city.
The fancy red path -- that has seen some of the best cinema stars parading before adoring fans and hungry cameras for days -- opened up to hundreds of teens and young people in their 20s and 30s.
Authorized by local authorities and accepted by the festival management, the protest did not spark security problems or major complains, although police forces were nonetheless deployed around the main hallways leading to the festival complex.
"The red carpet of the Venice Biennale (the entity organizing the festival) always gives space to big names and topics, drawing the attention of public opinion and media," the Friday for Future Italy explained in a statement on Facebook.
"Yet, given the climate change emergency, also the so-called star system should play its part, helping to inform citizens on what science has been warning about for years," they added.
The young climate strikers were the first to stage a sit-in before the main Cinema Palace in early morning. Then came the turn of activists with the "No Grandi Navi" (No Big Ships in Italian) group, which has been rallying for years to press local authorities into putting a stop to the transit of cruise ships through the lagoon.
They denounced that the constant passage of such huge vessels across the Giudecca and other canals disrupt local environment, damaging the frail thousand-year-old buildings and infrastructures of Venice especially.
They chanted and held colorful placards high reading "We are the nature", "Big ships kill", and "The planet is burning", among others.
The no-cruise ship movement fully adhered to the call of the "Venice Climate Camp" platform, which firstly launched the environmental initiative.
Campaigning strongly on social media as well, under the hashtag #GreenTheRedCarpet, the activists pleaded for solidarity from the world of cinema.
"We are calling for a signal from the whole industry of cinema and culture...to join us asking for a radical turnaround and a change of perspective to save the planet," they said.
"Filmmaking has been able to superbly narrate the tragedy of climate change, but the commitment goes beyond any image."
"The seventh art has enormous potentials, many of which are still unexplored. With this call, we ask anyone who works in movies and theater industries to give voice to these possibilities," they stressed.
Overall, the protest drew between 300 and 400 people, according to organizers and local media.
The 76th Venice Film Festival opened on Aug. 28, and is due to close with a ceremony awarding of the Golden Lion to the best film competing in the main selection on Saturday night. Enditem