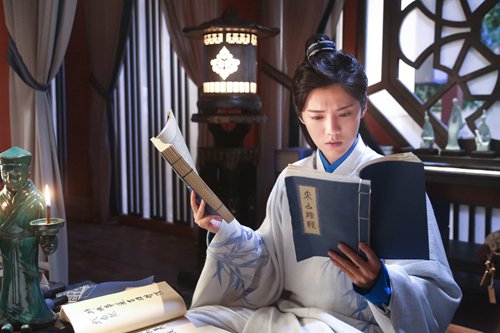 Lu Han in the TV series Fighter of the Destiny Photo: IC
Adapted from the 2014 online novel of the same name, TV series Fighter of the Destiny tells the story of a fantasy world in which humans, spirits and demons co-exist.
Within this fantasy world, a young man who is trying to change his fated death at a young age takes on the mission to save the world.
A huge TV drama with a reported budget of 400 million yuan ($58 million), Fighter of the Destiny has a not-so-secret weapon that its producers are counting on to bring in viewers: Chinese superstar idol Lu Han.
Skyrocketing to fame
The 27-year-old singer and actor has set numerous records in the five years since his 2012 debut as a member of the South Korean-Chinese boy group EXO. He was the first Chinese star born in the 1990s to be on the cover of Forbes China in May 2015. A post he made on Sina Weibo in 2012 later set a Guinness world record by gathering more than 13 million comments in less than two years.
Netizens have even come up with the term "the Lu Han effect" to specifically describe the idol's massive influence among his large army of followers.
For instance, in 2015 Lu was chosen to be the "Chinese ambassador" for Hollywood sci-fi blockbuster Stars Wars: The Force Awakens, the first Star Wars film to enter the Chinese mainland theaters.
This choice by Disney to have this rising young star help introduce the franchise to the world's second-largest film market is a testament to his popularity among 20-somethings and teens in China.
His first foray into TV, Fighter of the Destiny, just began airing on Hunan TV on Monday.
Directed by Hong Kong directors Chung Shu-kai and Mak Wing-lun, as well as mainland director Kong Lida, the 52-episode TV series also stars young Uyghur model-actress Gülnezer Bextiyar and veteran actors Chen Shu and Eric Tsang.
The first episode came in first among audience ratings in its time slot, according to statistics from CSM Media Research.
The drama currently has a 5.1/10 on Chinese media review site Douban, with many fans of the novel criticizing the adaptatin for not adhering closely enough to the original story.
Despite the diverse opinions about the TV drama, fans of Lu are very excited about the many "firsts" that rumors say the show is supposed to bring - his first half-naked scene and first on-screen kiss.
A new relationship
Lu currently has nearly 30 million followers on Chinese social media platform Sina Weibo, where it isn't unusual for his posts to receive more than 10,000 comments.
Many fans will tell you that it is the star's humble attitude that attracts them the most. How the star has gone about interacting with fans represents a new method of communication in the social media era.
"It seems to me Lu is a very well bred young man… he is kind to others and does not give off the air of stars when he meets with fans," 21-year-old female college student Wang Chensi told the Global Times.
An Qi, another college student, agrees.
"At first, I was only attracted by his handsome appearance and the style of his songs and films, but later I found out that he is a really nice guy… He does not give the impression that he is a superstar that keeps his distance from others. He comes across more like a big boy who lives in your neighborhood."
In addition to supporting their idol by purchasing his albums and seeing his films, his fans have also become a group that has worked to cultivate Lu's personal image as well. For example, some fan clubs carry out charity work in the star's name in order to win the star more positive media coverage, as well as demonstrate that there are more constructive ways for fans to support their favorites instead of just worshiping them from afar.
Not just a pretty face
While fans' love for Lu is great, that doesn't mean he has escaped criticism.
A recent trend in China has been for studios to invite big name stars to take part in their films and TV shows based purely on the size of the stars' fanbase rather than their acting ability.
Critics have attacked this trend and the use of "little fresh meat" stars, as young attractive idols like Lu are called in China, saying that this has negatively impacted the quality of works, since studios are merely trying to get by on star power rather than creating good films and shows.
"I do not like to use the term 'little fresh meat' to describe them, but rather 'young actors,'" Chen Shu, a veteran actress who also stars in Fighter of the Destiny, told the Global Times during a promotional event for the show on Friday in Beijing.
"I've seen the hard work they put in… I think we should give these young actors opportunities. I believe every profession takes time for a person to learn to do well, there is no quick path to professional achievement."