'Modern Family' Renewed for Seasons 9, 10
2017-05-12 05:09:41 GMT
2017-05-12 13:09:41(Beijing Time)
Agencies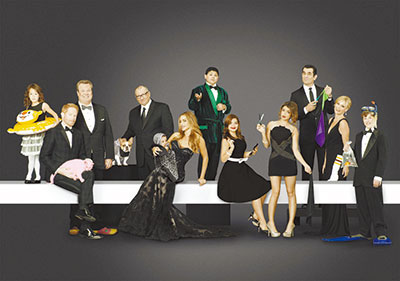 ABC'S "Modern Family" is not going anywhere.
The 10 stars of the five-time Emmy-winning family series have inked new rich contracts to return to the network's top comedy, which has been renewed for the ninth and 10th seasons. It's unclear if Season 10 of the Emmy darling will be its last. The renewal is for 44 total episodes, 22 per season.
"We are beyond thrilled that we get to spend more time with these characters, these amazing actors, our ridiculously talented writers and our incredible crew — all of whom are like family to us. And the good kind of family, not the kind that argues with you all the time," co-creator/co-showrunner Steve Levitan said Wednesday in a statement.
Sources say each star has scored a raise to remain with the comedy from showrunners Levitan and Christopher Lloyd and producer 20th Century Fox Television. Securing raises are the six primary stars — Sofia Vergara (Gloria), Julie Bowen (Claire), Ty Burrell (Phil), Eric Stonestreet (Cameron), Jessie Tyler Ferguson (Mitchell) and Ed O'Neill (Jay) — as well as younger castmembers Rico Rodriguez (Manny), Nolan Gould (Luke), Sarah Hyland (Haley) and Ariel Winter (Alex).
"'Modern Family' has been the centerpiece of our comedy brand for eight seasons and we are thrilled to have it on our schedule for two more years," said ABC Entertainment president Channing Dungey. "Steve and Chris have created such endearing characters, and the cast is second-to-none."
The delay in the renewal came after a fight between 20th TV and ABC over the cost of the long-running series as the network typically fronts most of the production costs for a show this far into its run. While the renewal keeps the series on for two more seasons, it's unclear if that will be the show's swan song. Co-creator and co-showrunner Levitan said he would like to see the show go 10 seasons.
"I'd like it to go 10 seasons. It seems like a nice, round number. But most importantly, I'd like to end strong. If that means ending it after nine, that's OK. If it means ending it after 10, even better," said Levitan.
Season eight of the comedy, which wrapped production in February without new deals for the stars, saw the cast making roughly US$350,000 per episode as well as a portion of the show's profits.
The latest round of renegotiations came after a contentious round of talks in summer 2012 that saw the cast get points on the show's lucrative backend and raises for each subsequent season.