Chinese costume drama 'Qing Yu Nian' treats audience with veteran actors and talented new stars
2019-12-03 06:26:46 GMT
2019-12-03 14:26:46(Beijing Time)
Sina English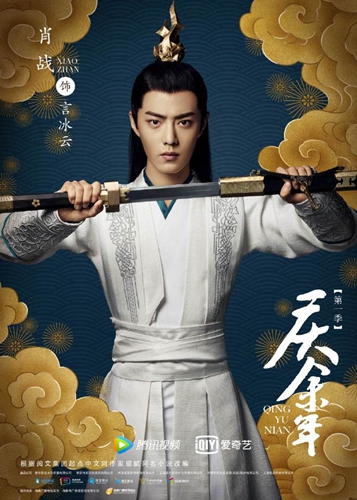 The 46-episode-long Chinese costume drama Qing Yu Nian (English: Joy of Life) adapted from a fictional web novel of the same title was released on November 26 on online streaming sites Tencent Video and iQIYI. It managed to receive a warm response from the audience and garnered a high rating of 8.0/10 on the Chinese media review platform Douban.
Only six episodes have come out until now which have been viewed over 420 million times on Tencent Video alone. The storyline of Qing Yu Nian is set on a unique background of time leap, where a modern man in the contemporary era ailing with severe myasthenia is somehow bestowed with another life. In his reincarnation, he is born in the ancient era to a mysterious mother. The story goes on to chronicle how the infant with a modern man's memories grows up and experiences all kinds of challenges of family battling for honors, Jianghu (community of martial artists in wuxia stories) and the imperial court.
The high ratings of the web series can be attributed to the terrific castings. Highly revered veteran actors such as Chen Daoming and Wu Gang have displayed their prolific acting. The award-winning artists' experience panning TV series, theatrical dramas, and films was evident as they played their parts in Qing Yu Nian. Chen was elected the president of China Film Association in 2018 and was a household name for playing the role of Emperor Kangxi of the Qing Dynasty (1644-1911). Chen's role in Qing Yu Nian is an emperor who is forbearing and determined and uses great tactics to rule diligently, besides striving to expand his empire.
Chinese actor Zhang Ruoyun from yesteryears who plays the protagonist in Qing Yu Nian is not only a popular star but also a stalwart. With his handsome looks and proficient acting, Zhang presented the audience with an energetic and clever young man inquisitive toward his unknown destiny.
A large number of Chinese viewers are particularly attracted to the show because of Xiao Zhan's role in it. Xiao is one of the most popular Chinese actors in the present day. His popularity burgeoned after playing Wei Wuxian in the successful show The Untamed. Although Xiao didn't play a lead character, he lent his voice to the closing song of Qing Yu Nian. His fans are delighted to hear him sing. It's interesting to note that Xiao Zhan debuted in the entertainment arena as a singer.
The series releases two episodes at 8 pm every Monday through Wednesday. Meanwhile, the wait seems endless for the loyal fans of Qing Yu Nian as they were curiously asking for more updates on online forums.
(Agencies)