Isabel Lucas can't hide her super-thin frame
2013-09-06 02:48:43 GMT
2013-09-06 10:48:43(Beijing Time)
SINA.com
She recently traded her luscious long blonde longs for an edgy pixie crop.
And for a recent fashion shoot in Sydney, Australia, actress and model Isabel Lucas certainly showed off her new versatile style.
The 28-year-old was styled in two very distinct looks for the shoot, one with high-octane jet set glamour, and another with an androgynous feel wearing a cricketing outfit.
First stepping out as if she was going to sashay down the nearest fashion runway, the model then joined an adorable group of young lads for a game of cricket.
Her new pixie crop perfectly suited her preppy attire complete with a cricket jumper, and black tie.
However, the actress also displayed her super-thin frame in a long white gown, with chunky sparkly jewelry worn loose over her skinny wrists.
Isabel, who found fame in her native Australia on the popular TV show Home and Away, was in an on-off relationship with Australian musician Angus Stone last year.
When it was revealed that the pair had split up, Isabel was seen looking worryingly thin.
She has been linked to several Hollywood stars over the years including Jake Gyllenhaal, Jared Leto, Joel Edgerton, Adrian Grenier and Miley Cyrus' current fiance Chris Hemsworth.
The model has been keeping herself busy in recent years with a slew of film projects, including Transformers: Revenge of the Fallen, Immortals, The Pacific and Daybreakers.
On returning to her native Australia this week, the model is also expected to shoot a new campaign for local jewller Linneys - following in the footsteps of Melissa George.
Isabel once won a Logie award for her role in Home and Away and will next be seen in the thriller Careful What You Wish For.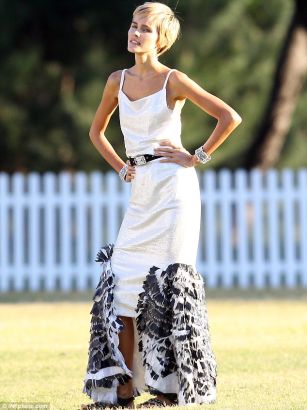 Super-slim: Model and actress Isabel Lucas showed off her worryingly thin frame as she modeled in her native Australia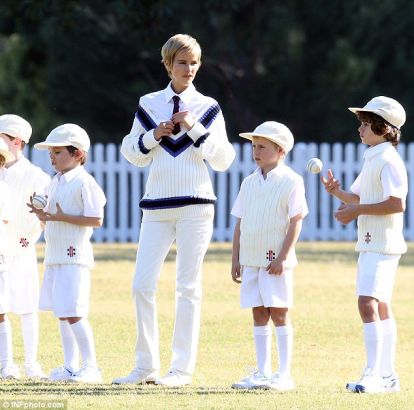 That's not cricket! Thanks to her new pixie crop, Isabel immediately transformed into an androgynous beauty as she donned sportswear for the shoot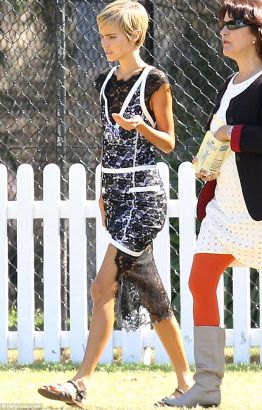 On the move: Isabel holds her hand out while her aide digs deep to find a treat in her snack pack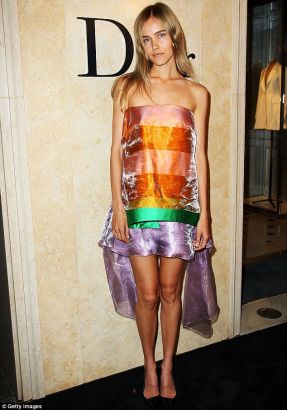 Switcheroo: Isabel - seen here in January this year - cut off her trademark long locks last year