Wu Yifan sings for "Tiny times Ⅲ"
2014-07-16 09:56:21 GMT
2014-07-16 17:56:21(Beijing Time)
SINA English
Wang Ruiqi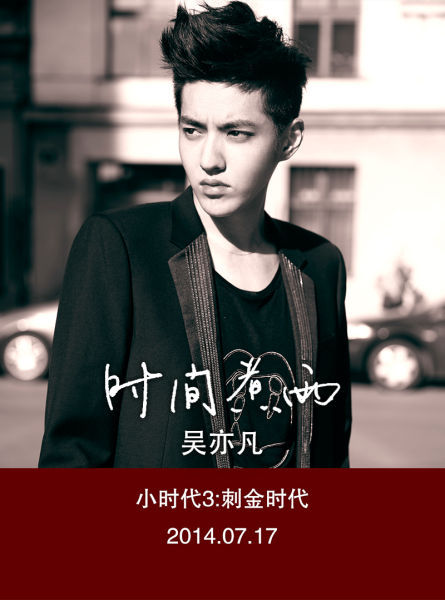 Chinese novelist and director Guo Jingming said on his Weibo account last night that Wu Yifan(Kris), former member of the boy-group "EXO", will sing the ending theme song of his new movie, Tiny Times Ⅲ. This is Wu Yifan's first music piece since his lawsuit with Korean star agency S.M. Entertainment.
Guo Jingming upadated his Weibo page at 9 pm, confirming the rumor that Wu Yifan(Kris) will sing the theme song, titled "Shi Jian Zhu Yu", for the highly popular movie Tiny Times Ⅲ, accompanied by a picture of Wu. Guo said that "This song is my favorite in the 'Tiny Times' series, and now I'll leave it to you."
"For some reasons, Wu Yifan won't be seen in the movie, but he will be heard at the end of the film. On July 17 at the cinema, all the people can hear your unique voice and watch you shine in the darkness," said Guo. He also used lyrics of the song "We promised not to be separated from each other and stay together forever." This is the first song Wu releases since he sued his former company in a high-profile dispute.
Four minutes later, Chen Xuedong, the leading actor in Tiny Times Ⅲ retweeted Guo's words, saying "The original version of 'Shi Jian Zhu Yu' sang by female singer Yu Kewei can also be heard in the movie, alongside Wu Yifan's. Both songs are pleasant to the ear. Tomorrow I will release my theme song 'Bu Zai Jian'".
Since Wu Yifan gave up his career as a pop music star in Korea and came back to China, his fans have shown great interest in his life and work. Last month the director Guo Jingming mentioned Wu on Weibo for the first time, giving rise to the rumor that he will join Guo's 'City of Fantasy' project, a movie based on the director's first book. There was also some saying that Wu will sing the theme song of Tiny Times Ⅲ.
Tiny Times III will hit theatres tomorrow.
(Wang Ruiqi)