'Grandpas over Flowers' show younger side of the elderly
2014-08-04 01:37:28 GMT
2014-08-04 09:37:28(Beijing Time)
Global Times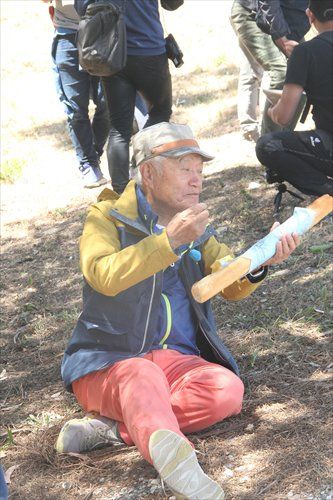 Niu Ben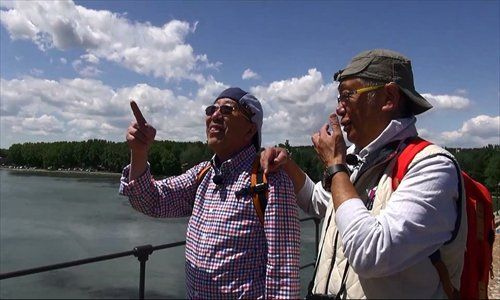 Lei Kesheng (left) and Kenneth Tsang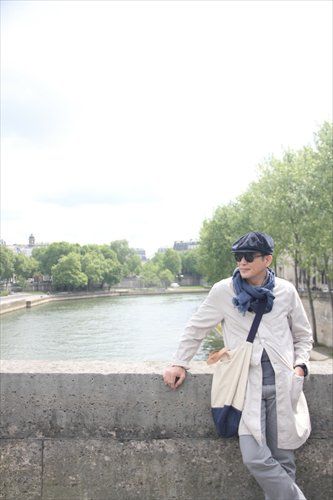 Chin Han
The popularity and commercial success of the first season of Where Are We Going, Dad? last year proved that the conflicts and interesting stories arising from sending people of different generations on a trip could make for a successful reality series. As usual in the entertainment industry, after the success of this show a number of similar shows began to be produced by TV stations around the country, not only about parents traveling around with their children, but also middle-aged women traveling with young idols in this spring's Divas Hit the Road, and the current summer show Grandpas over Flowers.
Broadcasting every Sunday since June 15 on Shanghai Media Group's Dragon TV, Grandpas over Flowers is the Chinese version of the hit South Korean show that features aging stars traveling around with a younger star as their guide to different countries on a shoestring budget.
The first season of the show covers a 16-day trip to France and Switzerland and features actors Chin Han (68) from Taiwan, Kenneth Tsang (79) from Hong Kong, Lei Kesheng (78) from Shandong Province, Niu Ben (79) from Tianjin and Liu Ye (36) as their guide.
While a trip to these countries sounds wonderful, unlike other travel shows, the four seniors have to face harsh challenges due to a tight budget and multiple language barriers, which lead to numerous surprises and even some accidents. However, this just makes the program even more tense and interesting, making it the center of hot discussion on the Internet.
For instance, in the episode broadcast on July 27, the four seniors ran into a bit of danger when they became stuck in an elevator. For over 30 minutes, the entire shooting staff did nothing to aid the men, only informing them that the elevator had run into trouble. This incident led to huge discussions online about whether the crew was acting responsibly by just sitting there and watching the four aging men suffer from oxygen deprivation.
Despite the occasional controversy ratings for the show have been good. The first episode received a 0.9 in viewership ratings, while episode 6 earned the highest rating of 1.1 against other TV programs shown during the same period.
Just what is the appeal of this show featuring four old men, three of whom are nearly 80? Although they were once the Prince Charmings of their age, they have now become white-haired and wrinkled old men.
In an article on 52hbtv.com, a new media website run by Hubei TV, critic Huang Xinliang wrote that although the show features aging actors, it doesn't give a feeling of tiredness, instead it demonstrates the young and energetic outlook these gentlemen possess.
The fact that these four seniors show themselves more than capable to take care of themselves, stay healthy and show themselves wise in the face of challenges, breaks from the image of old people as slow, ailing and unable to deal with anything new. And just like ordinary people, these men also come into the occasional conflict with each other as their strong and stubborn personalities sometimes come to the fore. Of course this all makes for great TV.
In traditional Eastern culture, elder men tend to hold a higher position within the family, and it is expected that they be respected by those younger than themselves. However, taking on roles in a reality series, these men seem more interested in entertaining others and sharing their stories: Lei has shared the sadness he feels since his son and daughter refuse to have children thereby making him unable to enjoy the joys of having grandchildren, while Tsang has talked about the several marriages he had throughout his life.
The show has also helped bring seniors into the spotlight and caused people to examine how their roles are changing.
On August 1 the Jiefang Daily featured an article in which they invited several people to talk about their grandfathers and how their roles in the family have changed over the years.
Men who used to be strict fathers when they were young are now trying to become kind and gentle grandfathers. One interviewee, Chang Zhen, said that her father used to be strict and conservative but now is very eager to meet with the daughter and grandchildren who live so far away from him.